Fresh perspectives gave me more than I expected
How do you find out you're wrong? No, not a rhetorical question. Take a moment, how do you? It is not easy. We're programmed to want our views to be confirmed. Which is a shame, as there's no shortage of evidence about the benefits of opening up to different views.
I've written a bit about this before, with respect to the CIA's recruitment policies, Cape Town's water shortage, and the prospect of surgery before anaesthesia. Helen Buckingham has also  written for us about the need for greater diversity in policy making.
But the more I consider it, the problem isn't the lack of a business case for diverse opinions – it's about whether we really want it. This isn't an intellectual argument, but a deeply personal one. It's certainly felt that way for me.
A year ago we launched our Perspectives Programme. It might have looked like any other internship programme but we were keen it wasn't. We wanted to increase the diversity of our own organisation and the meaningful inclusion of different voices in the health world. We committed not only to giving the successful applicants a job, but also a day a week and some money to make their own inclusion and diversity project a reality.
In an effort to maximise access and inclusivity in the application process, we made it anonymous and banned CVs and education thresholds. For the interviews, we only learned our interviewees' names that morning. Applicants came and pitched projects to increase the prominence of unheard voices in healthcare.
I've been asked 'why aren't we better than that?' and not have an answer. I've been humbled, ashamed, and oh so proud to have the colleagues I do.
We've been overjoyed by how it's gone. Following a fantastic array of applications, Farhath Choudhury and Seren Thomas started with us last September. Farhath's project on student mental health used a film festival to help fix the disconnect between the lived experiences of university students and the mental health services and support they receive.
Seren's project has used a zine to tell the stories of LGBTQIA+ people with eating disorders, helping health and social care organisations adopt a different approach to LGBTQIA+ eating disorder services. The zine has its launch event on 15 July, we'd love for you to join us.
Looking back, it was this outward projection of the benefits of diversity which dominated my thinking about why we were doing this. Which is pretty arrogant. What I've learned over the last year is that it was me who was in need of the schooling. And the embarrassing thing is, it's not rocket science: having people with very different experiences to your own (I write as a white, heterosexual, man) will mean they view issues in a very different way. The big question is whether I and we want to listen.
At Kaleidoscope we want everyone who joins us to bring themselves and their experiences to their work. And that means I and we need to accept that we will be challenged. Both Farhath and Seren have blogged about the experience.
A number of times I've been made to think, really think, about what we were doing and why. And then think some more about the blindspots that meant I hadn't even thought about it that way in the first place. I've been asked 'why aren't we better than that?' and not have an answer. I've been humbled, ashamed, and oh so proud to have the colleagues I do.
I know we have a long way still to go, but this is a long term commitment for us. We're now planning the Perspectives Programme round 2. There are improvements we want to make, but the central commitment to diversity (our own and more widely) will remain at its centre. We want to do better but we also want to build a community of businesses and organisations recruiting and supporting diversity.
This year we're opening out the Perspectives Programme to organisations beyond Kaleidoscope – so if your organisation would like to host a Perspectives intern, don't hesitate to get in touch to talk about what that means.
'Join a programme where you'll learn how your organisation is wrong' isn't perhaps the strongest of adverts. But it's one I'd recommend like little else.
---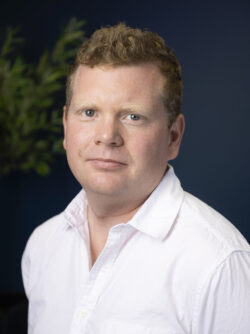 Rich Taunt
3 July 2020