Will Coronavirus make us value the power of kindness?
The Covid-19 pandemic is seeing a rise in random acts of kindness. This Mental Health Awareness Week, Chloe Hellier discusses what kindness means for Kaleidoscope and why it needs to be at the core of what we do.
Kindness is a fundamental part of being human. Children are born with innate capacity for empathy and altruism. Throughout human evolution, emotional bonds have been essential for our survival. We are social animals.
From a young age we are told that it's important to be kind, but it may come as a surprise that being kind has benefits to our own mental health and wellbeing. It can help us to feel a sense of belonging, make new friends and connect with our community. There is evidence to suggest that when you help others, it promotes changes in the brain linked with happiness.
Acts of kindness, whether large or small, go a long way in keeping us connected and feeling happy.
What's more, much like something else that is consuming our attention at the moment, it is contagious – when you are kind to someone it encourages them to help others. While we keep our physical distance from others, acts of kindness, large or small, go a long way in keeping us connected and feeling happy.
Can the system be kinder?
Since Kaleidoscope's beginning, we have talked a lot about kindness. It is at the heart of our mission; to build a future that is kind, connected and joyful. At our Super Melting Pot event earlier this year we asked if instead of asking individuals to be brave, we challenged the system to be kinder. Recently we have talked about how listening and having meaningful conversations can help improve safety.
This Mental Health Awareness Week we are bringing our conversations about kindness closer to home and talking about how we support each other. At Kaleidoscope we bring our whole selves to work. Kscopers come committed to improving health and care, but they also bring their personal passions, whether it's appreciation for the German language, gardening expertise or a talent for baking.
Organised kindess
Like many workplaces, recently we have had to adjust from our lively and social office life to the solitude of homeworking, only able to hang out as little virtual boxes on a laptop screen. The random acts of kindness that were once embedded into our days at work, now don't come so naturally. It's become a bit harder to take a new member of staff out for coffee, or to pick a cappuccino for a colleague with a busy day, or simply to pull someone aside to say you think they are doing a great job.
But in times like these looking out for each other is more important than ever. It is unlikely to feel whole and normal all the time, and our wobbles are to be expected. We are all trying to cope with the new concerns and struggles covid-19 has brought, and our commitment to a culture of kindness means not only celebrating people at their highs but supporting them at their lows.
At Kaleidoscope, we have produced a A Kscoper's guide to working through Covid-19, which centres around five themes, and offers tips and advice for looking after yourself and others:
be kind
take care of yourself
set boundaries
be supportive of others' personal needs
make your workspace as comfortable as possible.
Many of these things aren't new. In fact we are already doing most of them. But we are making a commitment that looking after each other and ourselves has to be our top priority for now.
Covid is challenging us all in a multitude of ways, but maybe it is also pushing us to be kinder. Helping others comes in all shapes and sizes. Whether that is the army of volunteers for the NHS, the rise of mutual aid groups and communities looking out for one another, or simply checking in on a colleague with a heartfelt message.
We want to challenge everyone to think about how they can make small acts of kindness a part of their everyday life. A special attention to look after ourselves and others may just be what we need to get through this.
Chloe Hellier and Farhath Choudhury lead the Wellbeing Project at Kaleidoscope. They have produced A Kscoper's guide to working through Covid-19.
---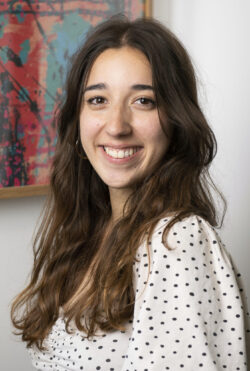 Chloe Hellier
21 May 2020