What can a 5-year-old teach us about strategy and organisation design?
Shane Carmichael is responsible for our strategy and organisation design service. Here we find out what he was like as a 5-year-old, and the three most important things children have to teach us about strategy and organisation design.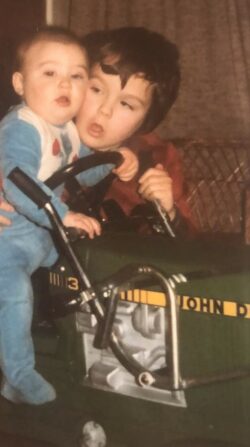 What is your role at Kaleidoscope?
I'm responsible for our strategy and organisation design service. SOD works as both acronym and extended metaphor I suspect.
What were you like as a 5-year-old?
Not dissimilar to how I am today – curious, head in a book or chasing a ball, mostly disorganised and an off the chart Gemini introvert/extrovert in that order. Only change is that I'm more prone to injury and anecdotage.
What did you want to be when you grew up?
I'll let you know when I do.
What was your favourite TV show?
Mr Benn. Winning at life was Mr B.
Favourite pastime?
An arms race with my sister to win the affections of my niece, Carmen Rose
Favourite food?
Steak with all the trimmings and a pint of Guinness in the Morning Star, Belfast
Is there anything that 5-year-olds can teach us about strategy and organisation design?
Let me count the ways. Three for now:
Teams. One of the most interesting studies into the performance of 'teams' (which contributes to our own 'high performing teams' offer) found that groups of nursery school children repeatedly outperform teams of experienced executives in a challenge to build a tower of spaghetti strong enough to hold up a marshmallow.
Why? Because children innately behave in ways that characterise high performing teams – they are oblivious to status or ego; are unafraid to start, test and try new ideas and express themselves; they work energetically and adjust as they go; they are 'task and social' not 'individual and context' focused.
Strategy. There are many problems with 'strategy' (read about our three favourite ones) but children are straight talkers, devoid of the vagaries and fantasies (mostly) of much of what hampers most strategy. And they characterise what great strategy and indeed great teams are about in a volatile world – they are studies in adaptability in the relentless pursuit of a goal. And that IS the goal.
Problem solving. It is a great sadness that we lose our child-like instinct to ask endless questions as we grow older. At Kaleidoscope we're obsessed with questions and believe there's no such thing as a 'stupid' one. A culture of questioning and curiosity marks out organisations, leaders and teams that focus on the right things, find better ways to work, report higher levels of staff wellbeing and retention and are psychologically safe.
What's been the biggest shift or challenge in strategy and organisation design that you've seen in the last five years?
Probably the most important and prevailing trend is how leaders, organisations and teams are wrestling with what is often referred to as the VUCA environment: the increasing volatility, uncertainty, complexity, and ambiguity that characterises the environment in which we work.
In response, we are seeing a focus and premium on ideas of adaptability in how we consider strategy and organisational design – moving away from traditional notions of a mythical 'fixed state'; harnessing lessons from social movement theory and complex adaptive systems theory to organise distributed ways of working and facilitate change; and finally a growing shift away from the narrative of organisational performance as one of machine to one that is much more human-centred, focused on developing environments which are designed to enable people to thrive, bring their whole selves to work in pursuit of purposeful outcomes and sees joy as both an enabler and product of high performance.
What do you predict will be the biggest shift in strategy and organisation design over the next five years?
Allowing for the inevitable volatility, uncertainty, complexity, and ambiguity noted above, I'll hazard a guess at the next couple of years for now. Generally, there will be a need to respond in imaginative ways using SOD to address the effects of the pandemic. These include well documented issues like workforce wellbeing and hybrid working. But more subtle and equally powerful issues are how organisations will help and respond to people reassessing what they find truly meaningful in how/where they want to work and live in light of the last 18 months.
In healthcare specifically, we are going to realise that we need greater humility and sophistication in how we design for and sustain a more collaborative approach to the delivery of services. This is most immediately reflected in and required by integrated care systems but also necessitated by workforce shortages (requiring role sharing and delegated authority).
I think we will start to see and understand that working effectively together – high performing collaboration – is a science as much as an art and is a serious undertaking. At Kaeidoscope we understand this. Peter Skillman's marshmallow study offers a lesson for us all – it may be child's play but it is instinctively beyond most of us 'grown-ups'.
Oh, to be 5 again. Or at least be able to draw on Mr Benn for effective collaborative working…
We are really keen to get your feedback. Please do fill in our very short survey – and you could be in with a chance of winning a cake (or fruit, if that is more your thing.)
---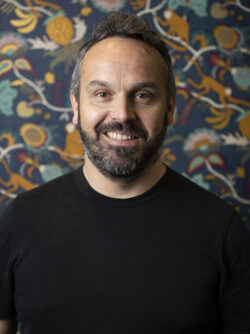 Shane Carmichael
21 September 2021