Thoughts on leaving Kaleidoscope
Two and a half years ago I joined Kaleidoscope. An unheard-of venture to most at that point (and to me). I was busy scootering around Myanmar finishing off an NHS Global Health Fellowship when I received an email from Rich Taunt saying he'd set up this organisation, and would I like to be a part of it?
It was a fairly mysterious proposition, so I delved a bit further. Which, looking back, was probably a sign that I'd fit in because you can't be part of Kaleidoscope without curiosity running through your veins.
I came across a website full of character, a job ad full of ambiguity, and the potential to help build an organisation with a mission I believed in. I was sold.
I left Kaleidoscope recently, setting off for pastures new (Wales), and a spot (five years) of public health training, so I've been reflecting on the journey to date.
"You were only there a couple of years!" I hear you cry. True. But as I'm sure anyone who has started a start-up will tell you – you can squeeze a lot into that short amount of time.
We might disagree on music, football and tea – but one thing we do agree on is the importance of kindness.
Looking back, when I joined Kaleidoscope, I think we were grappling with three things:
What kind of organisation do we want to be?
What do we want to do?
Who do we want to work with?
Two and a half years later…I still don't have the answers. Well, not the 'this is absolutely 100% right and will never change' sort of answers anyway. But I can share where I think Kaleidoscope has got to.
What kind of organisation do we want to be?
We want to be an organisation that prioritises kindness. That was clear from day one and hasn't changed. The Kaleidoscope team is made up of people from a range of professional backgrounds. They hail from different places and have different opinions on many important topics. For example, taste in music (Eurovision is and always will be terrible), football teams (still haven't found the strength to admit I'm not a Spurs fan), or what makes for a good cup of tea (doesn't count unless you can stand a spoon in it).
One thing we do agree on, however, is the importance of kindness. We even put together some evidence – see our Beyond burnout report – for why it's important and not just something nice to have.
We're also not huge fans of hierarchy. But that doesn't mean we're fans of chaos – quite the opposite – and if you're in any doubt have a read of David's blog on holocracy (a "terrifyingly rational" self-management practice for organisations that leaves no room for flights of fancy).
The fact that we value kindness and believe people should have autonomy over their work are two of the core principles Kaleidoscope is built on.
What do we want to do?
Kaleidoscope was born out of an acknowledgement that traditional organisations aren't for everyone, and don't always get the best out of our people-driven health and care sector. We're also firm believers that more can be achieved together than apart, but noticed that this isn't always encouraged in health and care. This is despite everyone working towards the same aim (rephrase as you like) of enabling people to enjoy the best health possible.
So, we knew we were keen to bring people together to improve health and care, but the how was a bit trickier. One thing we've learned is that we're pretty good at running events. And before you dismiss them as unimportant, think about the last project you worked on. Did it involve people needing to reach an agreement? Or was there a challenge to overcome that you couldn't solve yourself? When done well, events can facilitate answers to both. We call events our gateway drug to further collaboration.
Kaleidoscope was born out of an acknowledgement that traditional organisations aren't for everyone, and don't always get the best out of  people.
But our work doesn't stop there, and we've tried and tested a range of creative approaches to generate meaningful collaboration. From Melting Pot Lunches, to building learning networks such as Equally Well, to running global writing competitions, with more to come.
How we encourage others to collaborate will undoubtedly change over time, but I like to think the aim will stay the same.
Who do we want to work with?
One of the real pleasures of working at Kaleidoscope is the variety of people you get to meet. Looking back, the range of people and organisations we've worked with is astonishing. From local charities, to national behemoths, to far flung organisations in the US, Australia, Canada…the list goes on.
But what do they all have in common? The ability to pay us can't be overlooked (no Russian funding here, despite exciting rumours). Aside from that, it's an interest in making things better, a willingness to learn and a spark of curiosity to try something new.
Those are my thoughts on the state of Kaleidoscope, as of the end of summer 2019. Hilariously, the first blog I penned for them back in 2017 focused on knowing when it's time to leave jobs. I can't remember why, or what conversation sparked the idea, but there we go.
I found it hard to leave, despite 'comforting' and 'inspirational' quotes such as "Only the wisest and stupidest of men never change". Cheers, Google. But I'm glad to know there's a nook in this world chock-full of kind people, working on things I think are important, in a way that brings a bit of joy to the world.
Thanks, Kaleidoscope.
---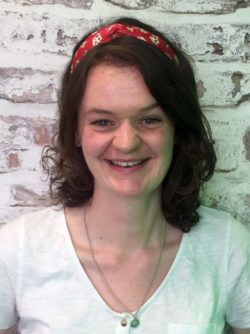 Anna Howells
6 September 2019