How population health management contributes to integrated care
Shane discusses the five things we learned at our recent Melting Pot Lunch in Leeds on population health management. The conversation was led by Andi Orlowski as part of NHS England and Improvement's Integrated Care in Action week.
An integrated care system (ICS) brings 3 Ps together to form a core offer for an entire population. This offer aims to ensure care is targeted and tailored locally to personal needs, enabling people to live healthier lives for longer and stay out of hospital when they do not need to be there. Those pillars of work are:
primary care networks
personalised care
population health management.
We recently ran a Melting Pot Lunch in Leeds during Integrated Care in Action week with Andi Orlowski from Imperial Health Partners. We were joined by colleagues from all corners of the local health and wellbeing community to discuss population health management – NHS England strategy, academic clinicians, clinical commissioning groups, a pricing and tariff expert, domiciliary care providers, estates teams (buildings really matter) and primary care network leaders.
Bookended by some strawberry Jaffa cakes, here's what we learned about population health management and its contribution to integrated care.
1. Seek first to understand, then to be understood
It was notable how many of us in the room had a limited understanding and awareness of what population health management is and how it earned its place as one of the 'holy trinity' of pillars that make up an ICS. In Andi's words, population health management involves:
getting the data on a whole population across the entire ICS – and that deliberately includes all people and the determinants of health, not just consumers of health
using it to understand variation in the population's health
working within and without the NHS and social care system to intervene where there is unwarranted variation for more effective and efficient prevention and cure.
As one attendee noted, "Wow, how did I not know about this." We all agreed that the first task for those of us working in ICS and wider population health systems is to encourage greater understanding of PHM. Then it can be better utilised to help ICS leaders understand how to best serve their populations.
2. Stories of humanity and the data that binds us
We are all stories. I am a story, you are a story, we are a story. And many of those stories are about our individual and collective health and wellbeing. Population health management is the art of using data to bind those stories together to create a more useful narrative about what we need and want. So suddenly a series of apparently individual stories of elderly people falling and requiring surgery in central London becomes a narrative of a particular community who are prone to falling due to consistent design flaws in common housing stock. Instead of three new orthopaedic surgeons, a handyman is employed at a fraction of the cost to provide local interventions such as grab rails and better fitted carpets to a particular population.
How do we motivate and make it easy for busy clinicians, public servants and private providers to provide good data in the right ways at the right time?
3. Data is necessary but not sufficient
As someone whose currency is data, it was sobering to hear Andi remind us that data in itself is necessary but often not sufficient, because sometimes the quality and range of the data available to an ICS is of poor quality and data is not insight.
If we are to unlock the power of population health management as an enabler for successful integrated care systems, then we need to double down on how we collect data at every point in the wider health and wellbeing system. How do we motivate and make it easy for busy clinicians, public servants and private providers to provide good data in the right ways at the right time? How do we build trust among the public that better access to their data will result in better care? And how do we employ global best practices in data mining and analysis in a local context? Perhaps first, as Andi suggested, by looking at how notable practice can be found in Cumbria, Berkshire West, Nottingham, Camden, NW London and Tower Hamlets (whose data set encompasses education, DWP and criminal justice).
4.  Asking the right questions

As one clinician in the room noted, "I now wonder if we (clinicians) are asking the right questions a) when patients present to us and b) when we see this kind of data." It was notable that Integrated Care in Action Week overlapped with International Question Week (and Pie Week while we are at it).
Are we asking the right questions? Do we ask, 'why are you ill/healthy?' as often as we ask, 'what is wrong?' or, 'how did you end up like this?'. Might we better ask, 'are we seeing a pattern?'. Is it a function of demographics or housing stock or social isolation? What if we didn't have any more traditional 'medicine'? How might we think more creatively about treatment and care…more grab rails, fewer surgeries? Perhaps we need to rethink our questions first if we are to rethink healthcare.
5. It's all about relationships
Like Melting Pot Lunches, integrated care systems and population health management are ultimately about connecting and sustaining relationships that are required across people, public sector organisations and populations. They are also about connecting more of the system to itself.
And in an age when we are being asked to do less with more, to practise evidenced based healthcare and respond to increasingly disparate and complex public needs collectively, the importance of that data-enabled interdependence and insight is more important than ever.
---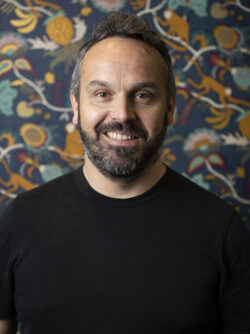 Shane Carmichael
26 March 2020