Five things I learned from Super Melting Pot 
Six months ago, we brought together more than 100 people from across health and care and beyond to take part in our Super Melting Pot conference. Over two days, we challenged participants to see how the world looks from outside healthcare and to talk about what we don't talk enough about. 
Remember January? A lot has changed since we hosted Super Melting Pot, and although face-to-face health events might seem like an absurd relic of the pre-Covid world, there is a lot that has stuck with me over this time. Six months on from the event, here are five the things I learned from Super Melting Pot
Networking doesn't have to look like 'Networking'
We recently discussed what words come to mind when we hear the word 'networking'. Responses included 'awkward', 'old fashioned' and 'male', to name a few. Personally, seeing dedicated 'networking' time in a conference agenda strikes fear into my heart. 'Do I have enough experience to network?', 'Do I have something intelligent to add?', and 'Do I need a business card??' are just some of the thoughts that come into my mind.
I've learnt that we're networking all the time, and it doesn't need to look like a formal exchange. One of my favourite innovations of Super Melting Pot were the 'contact me' stickers. Every participant got stickers with just their name and email address, we challenged people to give out all of them by the end of the event. We found out that 1,753 stickers were exchanged. But more than the number, it was the strength of the connections that mattered. In the feedback one person commented 'Meeting people here has made me feel so hopeful – brilliant, kind, brave and generous'.
We have taken this idea into our digital event experience too. In some of our online events we send an open email to all attendees a week before, asking them to introduce themselves and say a little about why they are coming. In other digital meetings, we kick off the session with small group breakout discussions, to introduce each other and hear each other's voices.
Bursting the bubble is vital
The health and care sector is pretty special. As we've seen since Covid-19 hit, it transcends most things in our society. But there is still so much to learn from outside of our bubble.
At Super Melting Pot, we sent participants to all corners of London to learn what dominates the thinking of organisations outside of health and care. We went to organisations like the British Museum, HM Prison Isis, the National Audit Office, the House of St Barnabas to challenge our thinking. Our speakers included a food guru and author, a poet and a music industry expert, who all shared insight from outside of the sector.
If we genuinely want to improve health and wellbeing, we need to challenge the insularity of the health and care world. 'Cross-sector collaboration' should be more than buzzwords. We need to actively seek connections from outside of traditional healthcare and continue to seek and create space for the voices that are not normally heard.
Mainstreaming joy is doable
All our events are about creating something high energy and building momentum to take back to our day jobs, and we do this by combining rigour with joy. The way we immersed Super Melting Pot experience in joy reminded me that event participants are much more than a list of job titles. Whether you are a chief executive, clinician, researcher, intern or  consultant, no matter how 'senior' you are, you are allowed to want to have fun.
Samantha Buttermer wrote about this for us in 'Beyond burnout: a call to action for joy in work'.  But let's be ambitious, let's not just allow joy, but mainstream it in health and care. That doesn't always mean whizzing down the world's longest tunnel slide, or going on a stadium tour. It could mean choosing a more inspiring location than an hotel for a conference (it's often cheaper too!) or getting people moving during a meeting.
Create space for hope
For many people working in health and care, hope of creating a better world is what gets them up in the morning. Looking back at everything participants said about Super Melting Pot, hope is one of the strongest themes that comes out. Hope isn't a meaningless or intangible thing, it's essential.
There isn't a silver bullet to create this feeling at an event. Being in different environments, inviting in different perspectives and facilitating different types of conversation was a large part of it. I think ultimately what we did well was create space for participants to connect, reflect and challenge themselves. And creating this space gave hope a chance to shine through.
Kaleidoscope teamwork is unstoppable 
Finally, the thing that will always stick with me, is how our team came together to make this happen. This was Kaleidoscope's biggest event by far. From coordinating 110 people on public transport to nine organisations across London, to sticking over 4,000 labels into delegate notebooks the night before; it was powerful to see our entire team come together in this way. This same energy has been shown in how we've adapted in the last few challenging months, from taking our Melting Pot Lunches online to setting up ABC chat a project to connect people during lockdown.
To have created something we are proud of and that was a joy to be a part of exemplified everything Kaleidoscope is about. So thank you to the Kaleidoscope team for always being supportive, kind and joyful in everything we do.
---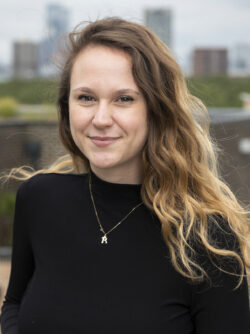 Rose Minshall
16 July 2020