Why We Revolt: the need for careful and kind care
Do you have nagging doubts that all is not well with healthcare? Too much burnout, too little time, too little care.
If so, you need to read Why We Revolt, Victor Montori's book about a system that risks losing its way, trapping givers and receivers of healthcare alike. The series of personal essays describe what is wrong with 'industrialised healthcare', how it has corrupted its mission, and how it has stopped caring.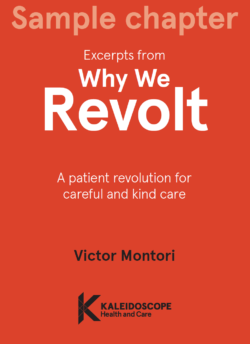 He writes mainly about his experiences in the US but his ideas resonate far beyond, and his frustrations echo around the NHS.
We have therefore joined Victor and other health leaders to think about how we can use the lessons from Why We Revolt in our own context.
We're honoured that Victor has agreed to us publishing a free sample chapter from the book, which includes reactions from leaders in health and care. Our mission at Kaleidoscope is to work with others to build a future that is kind, connected and joyful, and we're very proud to be working with Victor to do so.
We also encourage you to buy the full book, available from The Patient Revolution website. Victor founded The Patient Revolution, a non-profit organisation, to translate the book's ideas into action. If you enjoyed the sample chapter, how about supporting Victor's work with a donation?
Caring is not meant to be efficient, it is meant to be elegant
---