The pandemic has had such an impact on acute care – where should it go next?
Is virtual here to stay? What have we learned about infection prevention and control? How do we define the elective emergency split? Julie Lowe reflects on how acute care can move forward from Covid-19.
'I should be counted censorious, and perhaps unjust, if I should enter into the unpleasing work of reflecting, whatever cause there was for it' is Daniel Defoe's conclusion at the end of 'A Journal of the Plague Year'. It is perhaps a little early for any of us to draw conclusions on the impact of the Covid-19 pandemic, but I have tried to draw out some themes to frame a helpful discussion.
I came to King's (specifically the Denmark Hill site in Camberwell on the Lambeth/Southwark border) to 'lend a hand' as we entered the first national lockdown last March. My 'day job' as the Programme Director for the Integrated Care System in SE London, with its focus on population health management and long term planning, pushed aside by the urgency of an infectious disease sweeping the country in a seemingly indiscriminate manner. Although hindsight shows it wasn't quite as indiscriminate as we first thought.
We had (apparently) spent years' preparing for this moment. In previous roles, as a COO and Trust chief executive, I had taken part in simulations of bio-logical warfare and in 2010 we had what turned out to be a bit of a trial run with a swine flu outbreak that largely fizzled out. Very few people had envisaged, let alone prepared for, a pandemic lasting many months and those that had were expecting flu.
Very few people had envisaged, let alone prepared for, a pandemic lasting many months and those that had were expecting flu.
King's, like most acutes, adapted quickly turning the hospital upside down and inside out almost overnight. This could only be achieved by stopping pretty much all non-Covid activity. This wasn't too much of a problem as patients had pretty much stopped coming anyway. Clinicians knew so little about Covid-19 that there was extreme caution over undertaking any work that wasn't life or limb threatening.
For several weeks we all watched the news from Italy and expected that we would reach the point where our hospitals were overwhelmed. Discussion focused on returning anyone with any clinical skills back to practice and preparing to think the unthinkable ethically. Many hours were spent trying to source enough PPE to supply Covid-19 wards and to step up enough testing so we could avoid having to treat everyone as positive.
Through the amazing efforts of many people the NHS was not overwhelmed. However, it became clear that this was, in part, because we were only treating Covid-19. Enterprising clinicians and their teams had moved some work online and a number of bespoke digital platforms became mainstream. Others used Microsoft Teams and even Zoom (with the inevitable information governance concerns). Perhaps surprisingly many clinicians quickly realised that an old-fashioned phone call was simpler and more likely to work, especially with older patients.
A year on we have some examples of the limitations of virtual consultations – the most obvious being that you can't examine the patient.  We also have some clear feedback from (particularly busy, younger) patients that virtual consultations are preferable to face to face, especially for follow ups. They are also happy, in many cases, with the opportunity to email/message their consultant and receive a timely -not necessarily real-time responses.
For King's it seems likely that a hybrid model is here to stay. With my old system hat on, I think there is a real opportunity to look at pathways so that, for example, either the GP appointment or the first consultant appointment are face to face with a clinical examination but not both.
A generation of NHS staff have grown up in a world where infection control has not been their biggest problem. Those who worried out it tended to think it terms of antibiotic resistance, particularly the MRSA outbreaks in the 90s and the developing concept of antibiotic stewardship. Others saw infection as a niche area, with highly contagious diseases, such as Ebola originating abroad and being confined to specialist centres. HIV is nowadays managed as a chronic disease and London is on track to be a zero transmission city. Public health moved to local authorities in 2012 and, with it, arguably, interest in TB and management of community outbreaks.
A generation of NHS staff have grown up in a world where infection control has not been their biggest problem.
Suddenly we were faced with an infectious disease that was out of control, for which there was no effective treatment and it was being passed from patients to healthcare workers. Apart from the scramble to find enough PPE and  in the early days, to be able to test people there was little that we could do. This led to interest in 'clean' and 'Covid-19' pathways- with a plethora of pathway colours, green, blue, purple and, of course, red.
We have been here before, of course. Florence Nightingale in 'Notes on Hospitals' in 1857 provided clear advice on how to avoid the spread of infection in hospitals. Perhaps embarrassingly, many of her ideas have not stood the test of time and yet they are obvious – good ventilation, segregation of medical and surgical patients, maximum ward sizes, minimising the mixing of staff. We are now looking at modern versions of these concepts; elective surgical centres, diagnostic hubs, greater screening of patients and staff. These measures should arguably always have been there and need to be retained for the long run, not just for Covid-19.
Julie is kicking off our Melting Pot Lunch on this topic on Thursday 18 March. Sign up for this free event.
---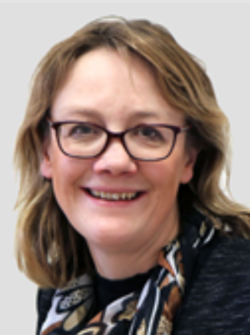 Julie Lowe
17 March 2021