Squiggling in the air
Bringing organisations together is bound to involve countless words, meetings and documents - and the chance of everyone understanding everything from the start is about as unlikely as a rain-free summer holiday.
"I'm not sure I really understand what you are talking about."
If the brave new world of integrated care systems is really going to take off, this is a sentence that will need to be said repeatedly, though perhaps more politely.
Back in the very earliest days of the Care Quality Commission, when the Healthcare Commission and the Commission for Social Care Inspection were being merged (along with the Mental Health Act Commission), I recall being in meetings where the health team and the social care team were using the same English words with very different meanings.
Neither team understood that the other tribe simply didn't use the words in the same way.
What's an outcome based assessment?
The most intriguing example was the phrase 'outcome based assessment'. After several months, it eventually became very clear that the two different tribes used the word 'outcome' in fundamentally different ways. But still each assumed the other knew what they were talking about. They didn't. That mattered.
In social care, outcomes are ones that matter to people using services whereas healthcare is more often about medical results. It was real recipe for confusion, and in talking about different things, they don't understand that (in a way) they are both right (or wrong).
Genuine understanding really does matter, and in so many aspects of our lives we muddle on, puzzled by discussions, but somehow reluctant to ask.
It needn't be this way.
Genuine understanding really does matter, and in so many aspects of our lives we muddle on, puzzled by discussions, but somehow reluctant to ask.
A short while ago, I was out with the family enjoying a pizza when the youngest pointed to a man at an adjacent table. "What's that all about?", he asked.
"What do you mean?" I said.
"This," he said, and then did that curious squiggling of a hand in the air that signifies, "Please can I have the bill?" to a passing waiter. I explained that it meant "Can I have the bill?" And that the hand wiggle represented the signing of a cheque.
"What's a cheque?" he said.
What indeed? When did you last sign one, if ever? Though I guess the symbolic hand sign for "May I use a contactless payment card to pay the bill"" could lead to more than a little confusion. The origins of the current signal may be antiquated, but at least most people know what they mean. For now. Twenty years from now? Who knows?
It's fascinating to see how signs and symbols that are introduced in one era, continue to have meaning years later, when their origins have long been forgotten. For instance, when did you last see a camera that looked anything like the one used on upcoming speed camera road signs?
If anything, this must be an old-fashioned Hasselblad type film camera, or an ancient Ilford (for those with long memories), which comes complete with bellows, and winding knobs for moving your film on. How often does anyone see a camera like that in the real world, other than in a museum? So why should upcoming generations understand its full significance? What does the sign really look like to the unknowing eye? Darned if I know.
Co-operation or confusion?
Listening, asking, explaining, and checking understanding really does matter. Otherwise, there is a significant risk that a symbol or gesture or word that makes perfect sense to one person will be meaningless to another.
The new world of ICS should result in very welcome collaboration and co-operation, but it could also result in confusion, misinterpretation, and irritation.
We need to bring tribes together. We need to be sure they really understand each other.
In Kaleidoscope, we are expert in encouraging genuine collaboration, and minimising misunderstanding. And that really matters too.
---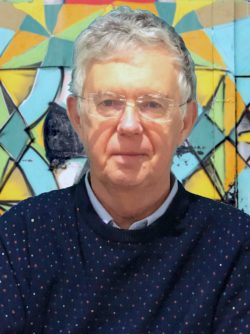 David Haslam
18 August 2021