Public convenience
Public involvement in health is often a box ticking exercise but maybe the 'new normal' can change that for the better. If organisations are prepared to be open, they are more likely to be trusted.
Remember traffic jams? Way back in history, when we were all driving cars here, there and everywhere, huge numbers of vehicles would end up motionless, frustrated, jammed.
If you were driving in the opposite direction, passing miles of stationary traffic, there would be a point where you could see cars speeding towards the end of the tailback, unaware of what was about to confront them. And you wanted to be able to tell them – slow down! Take it easy, you ain't going anywhere. But there was no way of getting the message across.
The way we've worked in health and social care over the past few years now feels rather like those speeding motorists. Frantic activity followed by a sudden unexpected halt (except for those actually tackling the virus). We are stuck, working out how we might get back on the move. We can fume with frustration, wondering why we didn't trust the Satnav (or indeed the WHO)  or else we can consider how we work and whether the end of lockdown should simply mean returning to the way we were before.
The way we were before actually wasted so much precious time. The arrival of videoconferencing tools such as Zoom has been revolutionary. These have often been the only practical way of continuing to hold meetings, but it now turns out that some forms of on-line meeting might actually be an advance and an improvement, rather than a substitute.
Building trust or box ticking?
Public involvement is one such potential beneficiary. I've spent much of the past decade either attending or chairing healthcare-related meetings where the public were invited to join. Whilst these can be immensely valuable, they can also be a box-ticking farce. Being genuinely open and transparent can be vital in maintaining, or developing, trust.
If you are prepared to be open, you are much more likely to be trusted. If you hide away, paranoia and conspiracy theories will thrive.
In my time as Chair of NICE, I was constantly aware that we were making difficult and often controversial decisions, and so the best way of dispelling distrust was by being as open as possible to public scrutiny. Our public board meetings were held around the country – Kendal, Exeter, Colchester, Leeds, and all points north and south – and before the main meeting we offered a wholly open Q&A session with the chair and chief executive.
For me, this was the closest that my work ever got to my previous role as a GP, facing questions about anything and everything with no warning. But the feedback we had from those who attended was immensely positive. If you are prepared to be open, you are much more likely to be trusted. If you hide away, paranoia and conspiracy theories will thrive.
Within Kaleidoscope, we've been looking at how videoconferencing might offer much greater, and much more genuine, public engagement than ever before. It isn't simply a matter of putting your old style of meeting on-line. That's something that you should only continue doing if you are quite certain that you already get high quality and broad public engagement. If you don't, or if you are involved in making controversial decisions – either locally or nationally – and you need to encourage openness and develop trust, then think again.
Encourage openess and follow up
For instance, instead of the usual paperwork, try having short videos of people talking through the papers on your website, focusing particularly on questions where you would welcome input from the public. Try asking for comments on the papers ahead of the meeting through a survey with different levels of detail depending how much people want to get involved. You could maybe run the actual meeting both as a Zoom meeting – with the potential for a small number of public participants to join as attendees – and livestreaming it through YouTube. You could encourage comments on the meeting as you go along through Twitter and/or YouTube comments, where you could specifically say you're not going to deal with all of them in the meeting, but that you will consider them afterwards. And you could even record a short 'post meeting key points' video with a couple of the lead participants as another way for people to get involved.
And if that all sounds like more work than it is worth, you might even need to ask if you really do want public engagement, or just want to tick the "public engagement" box and carry on as before. My experience tells me that openness can be a lot of hassle, but it also pays massive dividends. If your work is in any way controversial, or if being trusted by being open might help your cause, then this might just be the opportunity you need.
And Kaleidoscope would be happy to help. After all,  if we're all stuck in this jam together, let's not waste the opportunities.
---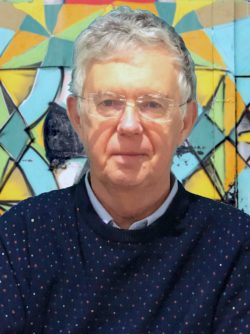 David Haslam
12 May 2020