How can we learn from the past to change healthcare?
The health system has had to change quickly in response to the challenges of Covid-19. How can positive developments be maintained and what can be learned from previous examples of successful, lasting change in healthcare?
Not many of us will look back on 2020 as being our favourite year. A few lucky folk may have fallen in love, started families, or enjoyed exhilarating new experiences that will leave them eternally glad to have lived through these extraordinary months.
For the rest of us, 2020 would be best forgotten – something both highly desirable, and almost impossible to achieve.
Despite all the challenges, one of the best ways to maintain morale is to accentuate the positive. In 2020 the NHS has achieved many great things, not least by demonstrating an ability to change with speed and with impact.
An obvious example would be the remarkable uptake of digital consulting, with all its accompanying benefits and unintended consequences. If nothing else, this has finally put paid to any criticism that the NHS is slow to embrace change, at least when change is truly necessary.
Will nostalgia for the good old days blind us to the benefits that Covid-19 may have forced upon us?
But what will happen when the crisis is over, or has morphed into daily routine? Will we just relapse into the old way of doing things with a deep sigh of relief? Will nostalgia for the good old days blind us to the benefits that Covid-19 may have forced upon us? This year has been unique, but there have been unique occasions in the past too. What might they have to teach us?
While cynics might say that the only thing that we ever learn from history is that we learn nothing from history, this need not be the case. The fashion for using pre-mortems in project planning meetings – imagining that the project has failed and trying to work out why – need not lead us to abandon the exact opposite.
History is littered with projects that succeeded and projects that failed. While we often look knowingly at the failures, and apply the 2020 vision of hindsight (insert your own joke here) – we rarely examine the successes and ask ourselves what was special, what worked, what made the difference?
The focus of the media on bad news rather than good news inevitably colours our view of events. In the same way, projects that go well tend not to be noticed as much as projects that end in disaster. They are taken for granted, simply becoming part of the furniture, often only missed when they are gone. But there is real potential in examining the successes, unpicking the reasons that they flourished, understanding the roles of leadership or vision or "right place/right time", or whatever the ultimate factor might have been, and applying the lessons.
There is so much we can learn from those who have faced major challenges before.
Kaleidoscope's free week-long digital conference, Changing Healthcare, will explore how best we can all learn from the past in order to create and sustain a better healthcare system in the future. How can we ensure that the positive developments that the agony of Covid-19 has sent our way are not lost, and that the successes aren't reversed?
The conference is designed to share learning from past examples of successful, lasting, large-scale change in healthcare to inform how to deliver sustained change in the healthcare system today. Topics that will be covered include:
to what extent can we learn from the past?
if history teaches us one thing about change, it's…
the role of quality improvement in improving quality in the NHS
case studies of successful change – including the reduction in healthcare associated infections, the increase in day case surgery, and the implementation of non-medical prescribing.
And we will be trying to unpick what the drivers might have been for these changes. Was the key ingredient a well-planned national policy and government directive, or did the development thrive in spite of the very opposite? Did the secret of success lie in clinical leadership, targets and incentives, new technology, changing professional boundaries, the power of the patient voice – or something else altogether? And even more importantly, we will be looking at how these lessons can be applied to the future.
Whether your professional aspiration for 2020 is to thrive or to survive, there is so much we can learn from those who have faced major challenges before. Join us.
---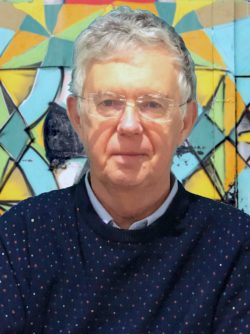 David Haslam
28 October 2020