Learning from stroke reconfigurations: why does it matter?
I'm excited about this month's upcoming events to discuss the lessons of the changes to stroke services in London and Greater Manchester. The events will draw on the findings of the study led by Professor Naomi Fulop of UCL, which brought together a team of researchers, clinicians and service users from London and Manchester to examine the effectiveness of stroke reconfiguration.
I am delighted to have been a member of this team. But why are we talking about stroke reconfiguration in London and Greater Manchester? And why are we talking about it right now? We believe that, by using a mixed method approach to study a number of cases of major system change in stroke services, our research has identified several lessons for people who want to carry out changes of this kind in other settings.
Here are a few reasons why our research might be of use.
The changes in London and Greater Manchester were pioneering. While the changes built on international evidence (such as the benefits of clot-busting drugs and treatment in a specialist unit, and other examples of centralising stroke services, for example in Calgary), no-one had ever attempted to reconfigure stroke services at this scale before. Consequently, there was little certainty on how best to organise centralised services at this scale, nor how best to put these changes into action.
The changes represented a 'natural experiment'. The aims of the changes in London and Greater Manchester were very similar – that is, to improve stroke patient outcomes by improving access to evidence-based care. However, the approaches taken in the two areas differed in a number of key features: potentially important contrasts included the service model implemented and the implementation approaches employed.
We studied the changes from several perspectives. By using a mixed method approach, we were able to analyse these changes from a number of important perspectives, including:
impact of the changes – on clinical outcomes, care provision, cost-effectiveness and patient experience
factors influencing implementation and sustainability of changes – including the decision to change; models selection; and approaches to planning and implementation.
The approach to change makes a difference. Our findings showed clearly that the type of service model implemented, and how it is put into action, can make a significant difference to care provision and patient outcomes. For instance, a key finding was that systems where all patients are eligible for treatment in a specialist unit are more likely to deliver evidence-based care and improved patient outcomes. Based on these findings, we have identified a number of issues that people might find helpful to think about when carrying out changes of this kind.
Right now, there are many settings where our lessons might help. There is growing momentum to reorganise and (where appropriate) centralise specialist services. Many Sustainability and Transformation Partnerships are considering or planning changes of this kind, and we believe that lessons from our work can help them. For instance, providing insights on how to approach stakeholder involvement when planning, implementing and sustaining change; factors that influence effective implementation; and ways to analyse the impact of major system change.
We need to widen the discussion. Throughout our study, we engaged actively with a wide range of groups, including service providers, commissioners, service users and the voluntary sector. However, to ensure our work can be of use to the widest possible audience, we need to extend this conversation. Therefore, the upcoming events are a huge opportunity for us to share lessons from our work, but more importantly to learn how best to ensure our work is meaningful to a wider audience.
I and my colleagues look forward to meeting you all, and to learning from you.
'Achieving successful system change: lessons from stroke reconfiguration' is an event series funded by NIHR, and a collaboration between UCL and Kaleidoscope Health and Care.
Dr Angus Ramsay is a Senior Research Associate and NIHR Knowledge Mobilisation Research Fellow based at the Department of Applied Health Research, University College London.
---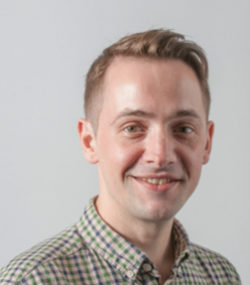 Angus Ramsay
1 May 2018