Leading in complex and uncertain times
What kind of leadership does health and care need right now? What support do people need to face the future with hope, agency and optimism? Catherine Russell and Rose Mosse explore leadership in complex and uncertain contexts.
At People Powered Results we work with organisations and public systems to release the power of people closest to issues to adapt and take action in an increasingly complex world.
In order to make progress on this, we believe a fundamental shift in how leadership is understood and practised is required. We believe acts of leadership can, and should, come from anywhere. Through our programmes we work with people across the UK to create the space to step into and try out different modes of leadership.
This often relates to how people are sharing, holding, or realising the power that they hold. This could be sharing resources across organisations differently, creating the space for proactive initiative for practitioners bound in tightly specified contracts, or supporting collaboration across the many, many fault lines that exist within our systems and communities.
This work, though impactful and often highly rewarding for those involved, remains highly counter cultural. The prevailing structures within systems mean leadership opportunities are too often minimised for all but those who sit at the top of organisations.
We've seen leadership emerge at all levels and in all places.
Over the past year, we've all been witness to some of the ways in which our current systems and paradigms no longer serve. Hierarchical institutions organised around excessively complicated administrative procedures have either failed to meet the challenges we've faced, or they've had to get nimble – quickly.
We've seen leadership emerge at all levels and in all places. We've seen chief executives build deep relationships with their colleagues across systems as they fathom the challenges ahead. We've seen social workers and community organisations coming together to develop new remote and mobile services to support young people at risk.
People have stepped up in workplaces to hold space for the grief and anxiety that has been rampant over the past year. Communities have come together to peacefully protest for things they believe in and to help the most vulnerable among them, sorting food provision, prescription drop-off, check-ins and moments of connection and kindness.
Our preconceptions of what is possible and what isn't have been challenged, where at the height of the crisis, we saw disparate groups and organisations working towards a common goal – in spite of the structures that had historically held them apart.
We've seen a great acknowledgement that there is a different way of doing things – it has been felt and experienced. And, while we've all felt the desperation of a return to normalcy in our lives (the ability to see family, friends, take trips etc), we have also seen and heard the fear as people experience the old system wanting to snap back – back to old ways of operating and old patterns of behaviour.
We've seen a great acknowledgement that there is a different way of doing things – it has been felt and experienced.
There are cracks in the existing systems and structures that support us as the complexity of the challenges we face increases. Those structures are beginning to crumble, to perpetuate inequities, and they will continue to fail (and to fail more of us) if we don't recreate them.
In People Powered Results, what's keeping us up at night now are questions around how we can centre and sustain the positive changes we began over the past year – really allowing them to germinate within the cracks of the current system, to grow through and around and out and beyond, so that the patch-up job that may feel relieving and safe to some, is no longer viable – a new world is emerging.
Building on our learning from the last year, we think this needs to happen from both the inside out and the outside in.
From the inside, how can those of us leading organisations, managing services, and working with communities continue to take the acts of leadership required to hospice the systems and structures that are crumbling, while advocating for, and stepping into, the new ways of working required for the challenges we face?
And from the outside in, where can those of us outside the 'formal system' seek out collaborators, champion initiatives and continue to build spaces of distributed power that are community-led and equitable?
We look forward to discussing this more at the Melting Pot Lunch and would be delighted to take the conversation further with anyone else.
---
Catherine Russell is Head of Development for People Powered Results at Nesta, and Rose Mosse is a Learning Experience Designer at Nesta.
The issues raised in this blog will be part of the discussion with Catherine and Rose at our online Melting Pot Lunch on 29 April –  register for the event.
---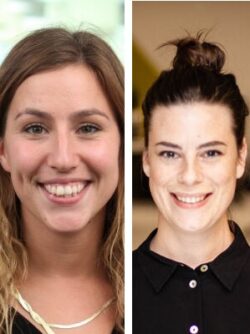 Catherine Russell and Rose Mosse
27 April 2021