Language of health can lead to chronic misunderstanding
How are common medical terms used by patients and clinicians? And what about the less common phrases found throughout health and care? David Haslam makes the case for some shared understanding.
It's Midsummer's Day. Except it very obviously isn't. Puzzling, isn't it?
Midsummer's Day is a name that has always bothered me. In Britain, 24 June has been designated this way since at least the 13th century, but heaven knows why – though Wikipedia tries to guess. After all, 24 June is not even the longest day, that's the summer solstice, which is actually on or near 21 June.
And even if these few days of descriptive inconsistency were hammered out, everyone knows that the end of June is in no way the middle of the summer, even if the nights will subsequently slowly start to draw in.
Real midsummer surely comes weeks later – probably at the end of July or early in August. That's my opinion, and eight centuries of usage isn't going to make me change my mind.
The English language is packed with problematical uses of words like Midsummer, and the world of health and care has more than its fair share.
We love using phrases that turn out to have alternative meanings. Take 'patient centred' as an example. It's a term that appears in countless aspirational mission statements, but you don't have to be a patient for long to realise that the words are being used in quite a different way to everyday life.
To a clinician, chronic means long-term. To many patients, chronic means awful.
I love the story about the Mayo Clinic being so committed to being patient centred that the best car parking spaces, nearest the front entrance, are reserved for patients, not simply for senior staff. That's true patient centredness.
And then there are words whose usage depends entirely on who is using them. 'Chronic' is a typical example. To a clinician, chronic means long-term. To many patients, chronic means awful – as in, "I've had a chronic headache all day." Misunderstanding can be important. Knowing where your stomach is really matters if you are talking to your clinician about stomachs.
A fascinating paper published back in 2000 looked at whether patients really understood common medical terms. In this study, the percentage of patients that did not recognise analogous medical terms was 79% for 'bleeding' versus 'haemorrhage', 78% for 'broken' versus 'fractured', 74% for 'heart attack' versus 'myocardial infarction', and 38% for 'stitches' versus 'sutures'.
While the study was carried out in the USA, I would be surprised if the results would be much different here, and now.
It matters if clinicians understand patients, and patients understand clinicians.
Indeed, a UK study in 2015 showed that patient information materials containing only text were too complex for 43% of England's working-age population to be able to understand and use. For materials containing both text (literacy) and numeracy, 61% of England's working-age population found the content too complex.
Does this matter? You bet it does – if you think you've been told one thing and have actually been told another. It matters if clinicians understand patients, and patients understand clinicians. (And don't let's get started here about using the word 'patient' – though with current Covid-related waiting times, you certainly will need to be.)
The NHS is certainly trying to address some of these issues. A couple of years ago, NHS Digital published a blog with the wonderful title, 'Pee and poo and the language of health'.
And I totally commend their brilliant A-Z of NHS health writing, well worth a look if you are producing any written information about healthcare.
But it's quite one thing choosing your words carefully when you have time to prepare a document, and quite another in a busy hospital or practice when time is precious, and you check understanding with the single word, "Okay?"
After all, it's been more than 50 years since I started at medical school, and I still get flustered when doctors explain worrying things that are about me. Anxiety impacts on understanding. In all of us, all the time. Which is cruel, because it means that when we need our brains to be the smartest, they tend to be just the opposite.
At Kaleidoscope, we are passionate about communication. Connection and understanding really do matter. So enjoy your Midsummer – whenever that might be.
---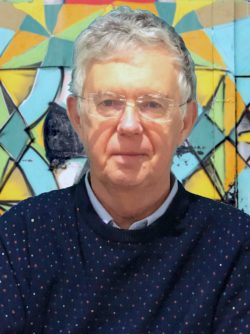 David Haslam
24 June 2021