How to foster community when we're all at home
Digital tools, check ins and altruism. Rose Minshall tells us what we can do to continue fostering community and connection while isolating and working from home.
I am always up for an office natter and too many Kscope office biscuits, so often working from home is the best thing for my productivity. I'm aware that it is a privilege to be able to work away from the office when I like and need to (and to have a home to work from). However, after a few days, it's easy to feel isolated and less connected to what's going on, especially during this time when many of us are staying inside all day.
We know how important human connections are to living a healthy life, so when people are increasingly 'self-isolating' and much of day-to-day life is moving to digital, what can we do to foster community and connections?
Using digital well
We've been discussing how we can best use 'digital' a lot at Kaleidoscope. When running events, we strive to respect people's time, and this means we only do face-to-face what we can only do face-to-face. We always ask ourselves when planning an event, could this be more effectively done by another means?
This could be an opportunity for people working in events to come together to improve how we do digital events. Instead of a one-way conversation between an 'expert' and a screen, can digital events be a truly collaborative and interactive conversation? Let's move away from 'viewers of webinars' towards 'participants of digital events'. At Kaleidoscope, we aim to make our digital events as engaging as possible, but now is the time to consider how we can all be most effective online.
Instead of a one-way conversation between an 'expert' and a screen, can digital events be a truly collaborative and interactive conversation?
With colleagues working remotely and travelling across the UK for work, Kaleidoscope have always used Google Chat as an instant messaging system to keep in touch. Yes, I am fond of using it to send Kscopers cat videos and GIFs when we're sitting right next to each other. But Chat is also a really effective tool for keeping in touch in a more authentic and personable way, where we don't need to worry about 'niceties' or formal sign-offs. How can we use systems like this to truly bring people together online?
Check in with your team
Since we've decided to all work from home due to Covid, we've been holding two daily 'check in' video calls that the whole team are invited to join. These discussions don't replace project meetings or internal communications, or check that people are doing work. For us, they're a way to communicate how we are doing and our plans for the day. We share work updates, weekend plans, our pets' faces and our collections of synth machines.
In true Kaleidoscope style, rules for the check in are:
It's not mandatory. Join if you'd like!
It's not a way to share urgent info, and a substitute to agreed channels for communication.
A chair for the meeting must be agreed within the first two minutes – it's the person who had the nicest sounding breakfast/ most exciting evening plans.
It ends after 15 minutes, with further conversations taken away as necessary.
It might seem silly to have 'rules' for something so informal, but for us, having these sorts of conversations is so important and we want to make the most of them. It's just one way that we try to look out for each other as a small team, and for every organisation, team and network, how we check in on each other adapts with our own needs.
Outbreaks of altruism
A few weeks ago, the Chief Scientific Adviser, Patrick Vallance, said that what we need in these times are 'outbreaks of altruism'. This is an important reminder that we should all be looking out for each other and supporting our neighbours.
The Cares Family are a group of local charities that bring together older neighbours and young professionals to hang out, help each other and tackle the loneliness of big cities. I've written before about how great the The Cares Family work is at fostering connections in the community. While their events have been suspended, they are focusing on new ways to keep people connected in their #AloneTogether campaign. They've asked people to chat to older neighbours on the phone, share book and film recommendations, and send videos and other things to keep nurturing relationships. This is a great example for us to follow.
Over the last couple of months, I think I fell to the 'busyness curse'. This involved leaving messages unreplied to, cancelling social events and lots of pesto pasta. I wasn't really too busy to see my friends or cook myself a proper meal, I'd just forgotten what was important to me. Now is my moment to reset my priorities and invest time back into the relationships and communities I care about.
How can we all do more to 'nurture the ties that bind us together'?
---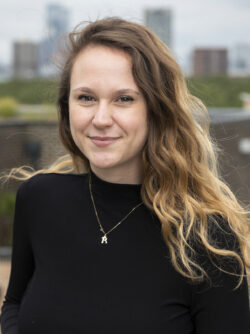 Rose Minshall
30 March 2020