Latch on to the affirmative this Groundhog Day
If all your lockdown days are beginning to look much the same, and there's nothing left to celebrate, then panic not. February 2 is Groundhog Day. Time to get the bunting out and prepare for yet another Zoom Party.
Groundhog Day isn't just a movie. It's a real day and a real celebration. Wonderful though the 1993 film might have been, and however often you may have seen it, the original festival probably originated with settlers from Germanic speaking areas of Europe who emigrated to Pennsylvania.
By tradition, animals were seen as having weather-predicting skills depending on whether they emerged from hibernation at the time of Candlemas. In Europe they were badgers, foxes, or bears. In Pennsylvania – it was the Groundhog.
By the late 1880s, Groundhog Day was being celebrated in Punxsutawney, and massive crowds have attended annually ever since – whether that will continue in the era of Coronavirus is anyone's guess. Any sensible groundhog will stay well hidden.
Get up, breakfast, move to the laptop, log onto Zoom, stare into space, log off from Zoom, repeat.
And Covid-19 has rendered so many of our days as versions of Groundhog Day, the movie – with our routines being depressingly predictable. Get up, breakfast, move to the laptop, log onto Zoom, stare into space, log off from Zoom, repeat. Endlessly repeat. We might not have the relationship challenges of Bill Murray and Andie MacDowell, or have to face "I got you, Babe" on the radio every single morning as we wake, but the daily repetition of daily life is surely getting us all badly down.
As I wrote in a blog for Kaleidoscope a couple of weeks into the first lockdown, time is the one thing most of us currently have too much of. Day after day spent within the same four walls. Day after day wondering how best to fill the time, to use the time, to pass the time.  We alternate between time filling and time wasting, though know that both are often exactly the same.
So what was the lesson from Groundhog Day, the movie? Phil, Bill Murray's character, eventually gives up fighting the monotony, and begins to see the recurrent loops of identical days as being a blessing instead of a curse – and even finds ways of using the time productively. The excuse that most of us use to delay tackling tasks – "I simply don't have the time" – simply doesn't wash in lockdown.
I learned a long time ago that the secret to most challenges – in particular the never-ending stream of NHS re-disorganisations that blighted my career – was to try and act as positively as possible. To a certain extent you can choose what attitude to take, for instance by seeing change as an opportunity rather than a threat.
Indeed, the real danger can be posed by what I've described as negative cognitive therapy. Therapeutic cognitive therapy – in which negative patterns of thought about the self and the world are challenged in order to alter unwanted behaviour patterns or treat mood disorders– has been shown to be genuinely valuable in lifting moods or tackling anxiety.
But sadly, much of the media, and particularly social media, has exactly the opposite effect. You may be having a reasonable day, then read how dreadful everyone and everything is, and your mood is rapidly driven down. Monitoring and minimising your exposure to negativity may pay real dividends, particularly when faced with challenges that infinite levels of complaint will have no impact on.
Lockdown is infuriating, frustrating, challenging, and critically important. But if you're stuck with it – you might as well use the time that it liberates, time that isn't available in normal life. Me – I'll probably spend it watching Groundhog Day again. Somehow it seems appropriate.
---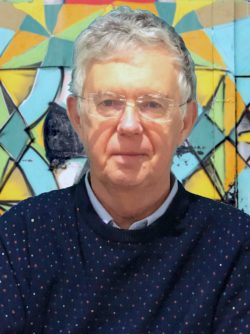 David Haslam
29 January 2021