The changing face of digital in healthcare
If Coronavirus has taught us anything, it is quite how dramatically the world can change. All those absolute certainties that we understood as-long-ago as February now seem as flimsy as chiffon. Indeed, back in February we wouldn't have dreamed of wondering if chiffon could somehow transmit the virus, and how best to disinfect it.
But now everything has changed, priorities have shifted, many things that really mattered a couple of weeks ago now seem irrelevant, and health and social care have shifted even further to the front of the national stage than ever. The spotlight is glaring, but it mustn't be allowed to blind us.
Now, more than ever, we all have to find new ways of working together, of learning, and of keeping great communication flowing. The good news is that the digital world is here to help – a world where the word virus carries an entirely different meaning. And another demonstration of just how astonishingly fast the world really does change.
When I first qualified as a GP – and I know it was a very long time ago to many of you, but it feels like yesterday to me – back in those far off days every consultation with a patient was carried out face to face, every note was written on a scrappy piece of card and stored in a Lloyd George envelope. Digital was simply the word that was used to describe the examination where the doctor inserts his or her suitably gloved finger into a human orifice. Usually the rear one.
And then the first computers came along, and I recall going to a demonstration at a nearby health centre where the lead computer nerd showed us how you could automatically list all the drugs that a patient was on in alphabetical order. I remember going home thinking, "wow, that's impressive" and "but what on earth's the point?"
As I struggled fruitlessly to teach myself BASIC on my Sinclair computer, I watched the digital world explode into life. To this day, most of it simply appears to be run by magic to me. How else can you explain what is really going on with wifi?
Now, more than ever, we all have to find new ways of working together, of learning, and of keeping great communication flowing.
But the impact on healthcare was extraordinary. Computerised and coded medical records in general practice became the norm decades ago, allowing effortless searching and benefiting care immeasurably – though, as with every beneficial therapeutic invention, there could be side effects.
The most common of these resulted in the phrase "… and the doctor spent more time looking at the screen than looking at me" – something that a better understanding of ergonomics might have addressed from the start, allied to the fact that if more coded information leads to more income then there is just a tiny risk that behaviours may shift. Points mean prizes, after all. (And I am still mystified by the fact that in at least one hospital that I attend, the computers on the consultant's desk simply show pdf files of handwritten notes, with zero coding, and probably zero value.)
Over subsequent years many practices began offering email consultations, and some offered Skype calls, and innovative teams arranged for patients to access their records and their results. And the balance of power in healthcare slowly and creakily began to shift to a shared centre, rather than a paternalistic professional dominance.
Some teams began to realise that they could meet virtually and maximise the benefit in minimised time. And now Coronavirus has forced our hands. When one fine day it is a mere footnote in history, we will recognise it triggered major changes in the way we all work.
And let us never ever forget that in the Corona-free safety of digital communication, with its multiplicity of platforms allowing one-to-one and team discussions alike – the humans who are involved are still humans. Anxious, fearful, bolshie, sensitive, warm, negative, enthusiastic, terrified humans.
At Kaleidoscope we're optimistic about how much can be achieved digitally, but we never forget the importance of kindness, of real communication, of making a difference. Some things should never change.
---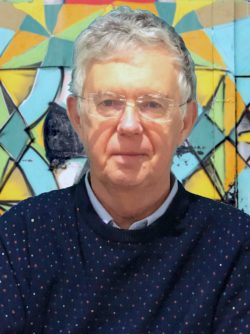 David Haslam
27 March 2020