Good primary care networks go beyond health: they are about community
As a GP Principal for the last 19 years running a list size of 5,000, one of my sadnesses was that my patients weren't getting joined up care. I wasn't giving it and as a system we weren't able to deliver it, but primary care networks are changing that.
I had a patient, let's call her Anna. She had osteoarthritis of the hip. It isn't a condition that is life threatening but it is something that can have a huge impact on your quality of life. What Anna needed was an appointment with a physiotherapist. Which seems simple enough, especially as our local hospital is under a mile away from my practice. Except it wasn't simple.
When Anna went for her appointment, she arrived to find the hospital had not got the referral letter I had sent. Then she was sent another letter, but that appointment got cancelled too. Instead of just going to the physio down the road, Anna had two unnecessary contacts with primary care that didn't get her any closer to feeling better. Two journeys which were wasted and difficult because she was in pain.
As a GP, I felt a failure. I was frustrated because I could see that Anna was quite typical of many of my patients who could not get joined up care. When the idea of primary care homes came around, I was very interested. This joined up model, where community health trusts, mental health trusts, acute trusts, social care and voluntary organiations come together around the needs of a community, seemed like a practical way to address the gaps in service delivery.
There are four key characteristics that make up primary care homes:
an integrated workforce, with partnerships spanning primary, secondary and social care
a focus on personalisation of care and improvements in population health outcomes
aligned clinical and financial drivers through a unified, capitated budget
a registered population of between 30,000 and 50,000.
The point on population size is particularly important. A population of between 30,000 and 50,000 works particularly well because of the staff numbers. If there are about 100 to 120 staff then people know each other quite well.
So, in the example of my patient Anna, rather than writing a referral letter to someone anonymous. I could pick up the phone to Rosie the physiotherapist, who I know, working as part of a multidisciplinary team.
When the primary care networks, which were inspired by the primary care home model, came into the Long Term Plan, I felt really positive. It seemed a real opportunity to make primary care homes available to so many more people, including my patients here in Newham. I was excited to become a clinical director and for us to realise our potential to improve joined up care. We were already a network of seven practices working together, so we decided to become a slightly larger network of 67,000.
A year on I can already see changes for the better. Covid-19 has been tragic and difficult but it has also accelerated joint working in a way I could never have imagined.
A year on I can already see changes for the better. Covid-19 has been tragic and difficult but it has also accelerated joint working in a way I could never have imagined. We have an acute care hospital working in tandem with us, working with us and our patients to provide advice and guidance with named consultants.
In Newham we are going to pilot a new way of working in our diabetes service. Now we have remote video facilities, a patient can be in a meeting about their care with their GP, a specialist consultant and the diabetes nurse. That is just one example of how this way of working is benefiting us. A real strength of primary care networks is that we can think about our communities and what our patients need. Which I like because we should be taking a broader view of treating long term conditions.
As a GP I have Quality and Outcome Framework (QOF) incentives to treat diabetes. And yet around a third of my patients on the diabetes register still do not have their condition under control. Why? Because the medical advice alone is not enough. It is very easy to advise people to lose weight, it doesn't help them do it, it certainly wouldn't work for me! That's where a tailored approach is much more effective and that is what PCNs can offer, and something that I as a lone GP could not.
I'm fortunate that we've had multidisciplinary team conversations for a while now. We have monthly meetings with a social worker, a mental health nurse and a district nurse. At the moment we don't have the patients. But I think that PCNs will have a great role in bringing those voices and the voluntary sector in. Then we can ask 'what matters to you?' not 'what is the matter with you?'
In the NHS we're still a bit tribal and siloed. And that's inevitable, after all it was set up to treat sickness rather than keep people healthy, so this is a big shift. But I think we can make that shift. Our patients on the other hand, see the NHS as one homogenous organisation, they don't see it as lots of different bits. It's only when you work in it that you realise how fragmented it is, and how sometimes those jigsaw pieces don't always fit.
But this is a model where they can fit, and I love the new roles coming in and coming together. We've got roles for clinical pharmacists, link workers, first-contact physiotherapists. So, the experience with my patient Anna wouldn't need to happen, she could just go to the first contact physio straight away, as part of the primary care team. That's the goal and it's achievable.
It is a different way of working for autonomous GPs and it's a new way of working, so it's a journey, and like all changes that comes with some challenges. But a year on we remain really excited about it. It does feel like we are all in this together.
---
Dr Farzana Hussain is a GP at the Project Surgery, Newham and Co-Chair of the National PCN network at the NHS Confederation.
The issues raised in this blog will be part of the discussion with Farzana at the Melting Pot Lunch on 21 October –  register for the event.
---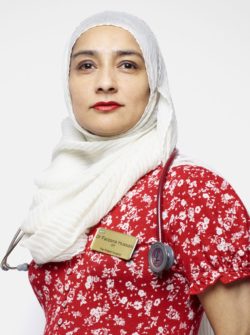 Farzana Hussain
19 October 2020