While we're not based in any of the historic centres of health service power (Whitehall, Harley Street, the back-end of Elephant and Castle), we're not far away.
Our address is 604, Cannon Wharf Business Centre, Pell Street, London, SE8 5ET. Cannon Wharf is on the corner of Yeoman Street and Pell Street.
Public transport
Train: we're 10 minutes' walk from Surrey Quays (London Overground line).
Tube: we're a 15 minute walk from Canada Water (Jubilee line, and London Overground). Changing at Canada Water from the Jubilee line to get an Overground train to Surrey Quays will save you a bit of the walk, but probably not much time. The walk from either station is set out in the maps below.
Bus: bus 47 and 188 stop at Bestwood Street; bus 199 stops at Plough Way. All of them c an be caught at Canada Water station.
Boat: we're 10 minutes' walk from Surrey Quays Clipper station, with boats to and from central London every 20-40 minutes. It's a bit pricier, and a lot slower than the tube, but is exceptionally lovely.
Walking from Surrey Quays station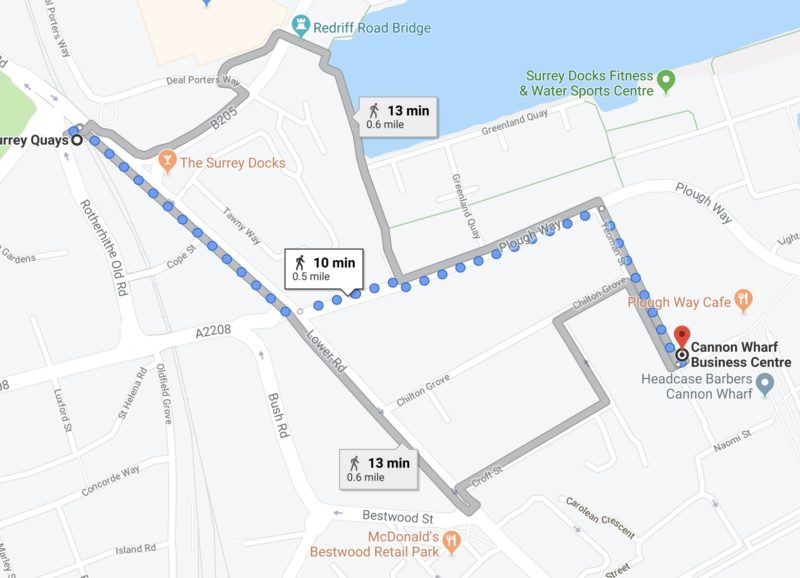 Walking from Canada Water station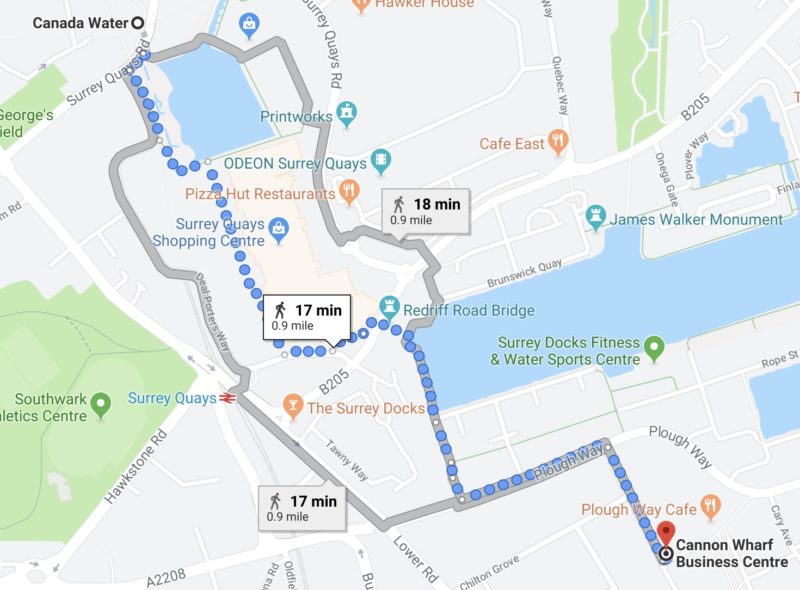 On arrival at Cannon Wharf Business Centre
Come through the revolving doors, and then up to the 6th floor via the lifts (stairs are locked to visitors).
On getting out of the lifts, turn left. Past the loos then turn right. There is a small kitchen (to your right) and a locked door (in front of you). In between the kitchen and the door is a small numberpad. Enter '604' then the bell symbol, and it will connect you to our office. A friendly Kaleidoscopian will unlock the door, allowing you to walk down the corridor to office 604, the last door on the left.