Why I'm giving up talking to people like me
When did I last listen to an argument and say to myself, "Good point. I hadn't really thought of that"? As views become increasingly polarised, entrenched and echoed, there is a real need to hear fresh and different perspectives. Kaleidoscope is helping to make that happen.
For the life of me, I'm struggling to remember when I last changed my mind.  It's not as if my mind has simply become fossilised. After all, I do try new foods, and I do listen to new music. I even go out of my way to listen to different arguments, to understand opposing viewpoints. At the time of the Brexit vote, I realised that almost everyone I knew – with just one or two exceptions – voted the same way that I did. That didn't feel at all healthy, particularly as I had a very public role at the time and needed to be sure I understood the public – not just people like me. It was depressingly clear that I was living in a bubble – in the pre-Covid sense. Other commentators described this as an echo chamber. Those commentators were right. I was determined to do something about it.
And so every day I read the Times and the Guardian, with occasional forays into The Telegraph. Every week I read The Spectator, The New Statesman, and Private Eye. It was fascinating seeing the contrary viewpoints, as exemplified by any discussion about the current national challenge of obesity. On the one side are the advocates of challenging the food industry with stricter regulation and control. On the other are those who detest the "Nanny State" and believe weight loss all comes down to self-control – eat less, do more, sort yourself out. I listened to both sets of arguments. But did I change my mind on the views I held twenty years ago? Not in the least. I find other people's arguments variably intriguing, thought-provoking, bizarre, sensible, challenging, ridiculous, and encouraging – but do often I change my viewpoint? Not often enough.
It may well be my age. I know that as many people get older their opinions tend to fossilise, and their politics drift inexorably to the right. So far, I've resisted the call of the right, but I'm glad that I read Jonathan Haidt's fascinating book "The Righteous Mind", which explained why right-wing politics appeals to so many people. It taught me a lot. I now understand a different viewpoint. But again, did it result in a change of mind? Not a bit.
If none of us ever change our minds, it leaves society in something of a mess. If all our viewpoints become fixed and polarised, then simply shouting louder at our opponents won't get us anywhere, as fatuous and futile as "debates" in Parliament. Have you ever heard a politician say to an opponent, "Good point. You're right. I'll change my approach"? Not a chance.
Have you ever heard a politician say to an opponent, "Good point. You're right. I'll change my approach"? Not a chance.
It's not that alternative opinions aren't available. Twitter and the rest of social media is awash with opinion – but I rather suspect that most of us simply "like" what we agree with and dismiss what we disagree with. In the thousands – maybe tens of thousands of tweets – that I've read, I can't recall any of them making me actually shift my viewpoint. That really bothers me. I'm clearly either always right about everything and have nothing to learn, or I'm missing a trick and failing to learn. I know which is more likely. I need to learn to change my mind. And I suspect you do too.
At Kaleidoscope we bring together a remarkably wide range of people, from students to chief executives, clinicians to policymakers, to have a different kind of conversation. If you simply like talking with people who think the same way you do, then some of the stuff we do, like our Melting Pot Lunches for example, won't be for you. But it is worth pondering that if you only talk with people you agree with it is unlikely that you will learn, develop, or grow.
So far, we've covered topics as diverse as artificial intelligence and ethics, patient engagement, homelessness, and the media and its role in health and care. It is so refreshing to hear someone different say something new. We all need that.
When did you last change your mind?
---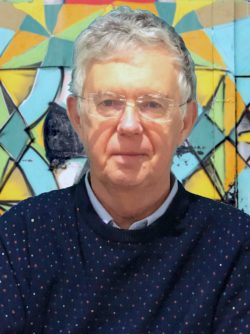 David Haslam
4 September 2020