Webinar myths and fears
At Kaleidoscope we like webinars – while never being able to supplant the wonder of a face-to-face event, they're a worthy complement. So why do webinars, digital discussions, online seminars, or whatever you want to call them often get such a bad reputation? In part we think it's because they're often misunderstood, or feared for reasons which turn out not to be true (or at least not as true as some make out).
Here's our round-up of the top five webinar myths and fears. We've answered based on how we run our Kaleidoscope webinars using GoToWebinar – which we use because it most effectively deals with all those issues that can turn a webinar into a gremlinar. Other webinar software (Webex, BlueJeans, and so on) is available, so don't take what's set out below as gospel for all webinar providers.
1. I don't want people to see me in PJs
"It's a webinar, so using videos right? So I'll be on screen?" Er, no. It's basically watching telly with the option to ask questions. You don't have the option to turn your webcam on, so you can't even do it by accident. And we won't hear you; everyone is muted from the start, and we prefer to take questions by text rather than voice anyway. So you could be in your PJs at home, or in the middle of a mosh pit, and we'd be none the wiser. Of course wherever you are, we would still love you to join in, whether that is by sending questions via GoToWebinar, twitter, or just popping us an email.
What you see: Speakers: Yup. Slides: Yup. Participants: Nope.
2. My work computer won't let me on
Yup, this might well happen. Work networks, particularly in the NHS, often block webinar packages – which is ridiculous given how much we bang on about the future of health being about (a) technology; and (b) working across organisational boundaries. Anyway, easy solution: use your smartphone.
GoToWebinar has a great app (available on iphone and android) that gives great picture and audio. Just make sure you're on wifi, and grab your headphones so your colleagues aren't disturbed. Another option is just to dial in by calling the number you'll find on the joining details. You won't be able to see the screen, but can still listen in.
Don't try and join a webinar 30 seconds before it's about to start then be shocked when something doesn't work.
3. My tech won't work
We've all been there. Get yourself all excited, only to be let down by tech gremlins. This is always a risk, but one that you can manage. When you register for one of our webinars, you'll get an option to test your settings – which you can also do by going to bit.ly/checkwebinar – and even try out a quick automated session. It'll check your computer, internet connection etc to make sure you're all set.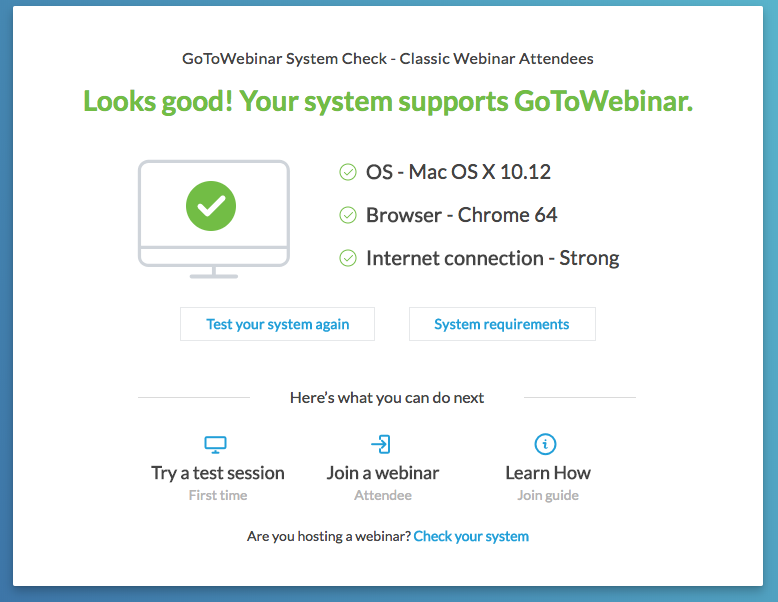 If you're worried, do a quick test. If there's one tip to take away from this blog it's this: don't try and join a webinar 30 seconds before it's about to start then be shocked when something doesn't work. If you're joining a GoToWebinar (or any webinar software) for the first time, give yourself at least 15mins or so to check it out first. If your computer's not playing ball, use your smartphone. If that's not working, dial in.
4. I've got other things to get on with
And this is one of the beauties of webinars. Because we can't see or hear you, it's the perfect opportunity to poddle away with emails while listening in. Of course, we think the content will be so compelling you won't want to do anything but give us your full attention… but we completely understand if not. We also record all of our webinars (and produce 90 second highlights) so you can check back in later if you miss a bit, or have to pop out.
5. It'll be rubbish
Now this is all in the hands of whoever's running the webinar. Like any meeting, there are the special ones… and the downright awful ones. At Kaleidoscope we think that if you don't enjoy a meeting (whether face-to-face or digital) there's very little chance you're actually going to learn anything, or want to come back. As such we spend time thinking about how to make webinars good – even, heaven forbid, fun – to watch, with a clear purpose, and a mix of presentation styles. Read more about how we do this in Anna Howells' blog.
Convinced yet? You can always take a look at our webinar back catalogue, or sign-up for a future webinar. Hope to see you (or rather, not see you) soon!
---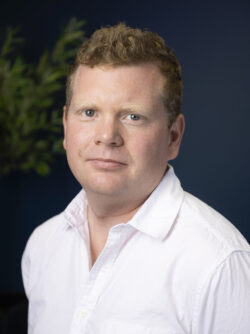 Rich Taunt
12 March 2018