Wait, why is there a medical student here?
I joined Kaleidoscope for my medical school elective as a chance to experience something new. Over a busy eight weeks I've had the opportunity to get involved in different projects and been in rooms that I haven't had a chance to be in before.
I'm currently a final year medical student at St George's, University of London. I decided to join Kaleidoscope for my final year placement as it looked like it could offer me a different experience from my usual clinical placements
In my time here I've been asked multiple times how I ended up coming to Kaleidoscope, and my honest answer is that I have no idea! I somehow came across their website and saw that they placed an emphasis on only hiring kind people, and I thought that was genuinely cool!
Easing my nerves
Working at Kaleidoscope was my first experience in a non-clinical work world. One thing that stands out clearly was just before I joined my Kaleidoscope mentor messaged me to outline what my first day would look like and say that log-ins for my accounts were sorted, which really eased my nerves.
It's funny comparing this with my experience in medical school, where I rock up to wards for five weeks at a time without any log-ins or even access cards for key areas.
And something that may seem insignificant, was that my mentor told me about the dress code and even said what she usually wears. It might seem silly, but I feel like I'm always worried about looking under/over-dressed (NHS trauma?), and this really helped me feel more comfortable about going into the office.
On my first day, my mentor had already organised a welcome lunch at the office where I had a chance to meet some of the team in real life, as well as on Zoom.
This work-life balance thing is harder than I thought…
I started helping out on a few projects, all with different team leads. That meant different running priorities and jobs to do, and it was difficult to organise and prioritise things when you have the freedom to self-manage.
For the first few weeks, I found it really difficult to establish work boundaries during my day. On reflection, a lot of this stemmed from my experience at university and not feeling like I could have defined boundaries with my revision. But my time at Kaleidoscope has really taught me to get work done during the day, and to switch off once it's done.
It also showed me the importance of working in short bursts, such as working between meetings, whether that's 30 minutes or an hour, because you can't wait for long stretches of time. I'm still finding that difficult – but maybe that's my procrastination talking?
Being trusted
A lot of my work with Kaleidoscope has been on organisational development, something that I've never come across before. One of the main projects I was involved in was the south east London systems leadership programme.
For one of our events I worked with a colleague to build some theory about what trust is, and how to create it. To be honest, I guess I'd never thought intentionally about how trust is built, just that it either exists or it doesn't. I've learned more about trust than I ever thought, both in theory and practice.
From the beginning, colleagues have trusted me to get work done and it's something that I'm incredibly grateful for. As well as trusting my work, my opinions have been trusted and valued, and I've always felt like I could share my thoughts and give any feedback.
Making the most of your placement
It's been a short but great eight weeks here at Kaleidoscope and I'm grateful for the opportunity to join and get stuck in to a variety of projects. Especially as a medical student, it was a great chance to learn some new skills and I'd really recommend it to others who are considering a non-clinical elective.
How do I think that you could make the most of your time when on placement at Kaleidoscope? Some of the following might help:
Have an idea about specifically what work you want to do and improve on – everyone's really flexible about what roles you can take on and are happy to help make it happen
Get stuck in to whatever work you get assigned, and be confident enough (even if you have to fake it!) to share your thoughts and opinions as they are always valued
Learn to love brown paper sheets and sticky dots for face to face events!
---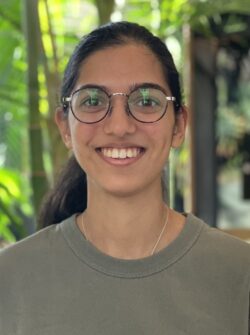 Radhika Patel
6 July 2022