Utopian or dystopian? You decide.
"You can't connect the dots looking forward; you can only connect them looking backwards. So you have to trust that the dots will somehow connect in your future. You have to trust in something - your gut, destiny, life, karma, whatever. This approach has never let me down, and it has made all the difference in my life." - Steve Jobs 
In September I was invited to present at NHS Expo on what health and care may look like over the next 70 years, and the leadership challenges we face as a result. At the same I was privileged enough to be reading Kaleidoscope's Writing the Future sci-fi short stories about health and healthcare in 2100. I was struck by the possibilities for the future we could face.
The reality is that we don't actually know what it will be like in 70 years. However, to give us insight we can see what has happened over the last 70 years.
In 1948, there were 34 deaths for every 1000 live births. Children faced polio, measles, whooping cough and diphtheria. Now, the NHS vaccination programme has eradicated the majority of these diseases, and infant mortality is barely a shade over a tenth what it was.
Life expectancy in 1948 was 65.8 years for men and 70.1 years for women. Men born now can expect to live at least 15 years longer; almost 20 years for women.
Even the first dozen years of the NHS saw major advances: 1953 saw the structure of DNA identified. 1954, the link between smoking and lung cancer was established. 1960, the first kidney transplant.
So, to build on the past and to look forward over the next 70 years we can plan the utopian vision of the future:
technology advances
healthcare artificial intelligence
healthcare robotics
cellular therapies
genetics / genomics
citizen-ownership of own data
understanding of wellbeing and mental health
smartphones (breaking the need for people to be in the same room as the person treating them in many cases)
information availability
greater free time as more work done by machines
Some are chilling to the bone, some are heart-warming, none of them are out of the realms of possibility. All are worth reading and celebrating.
​But there is a darker, equally possible dystopian vision;
anti-microbial resistance
deliberately sanctioned attacks on population health
long term biological / chemical / nuclear attacks
cyber-attacks on critical healthcare infrastructure
failure to effectively regulate technological advances
war (including if provoked by issues related to health – lack of water, global inequality between those with access to the benefits of health advances and those without)
global warming
post-truth / anti-enlightenment movement
All of these possibilities and more are beautifully captured in the outstanding range of stories for Writing the Future. Some are chilling to the bone, some are heart-warming, none of them are out of the realms of possibility. All are worth reading and celebrating.
One thing we do know from the past – if we are able to influence the future, it lies in the power of individuals, community's relationships and networks.
To quote that leading source of medical wisdom, Grey's Anatomy, "The future is the home of our deepest fears and wildest hopes. But one thing is certain, when it finally reveals itself, the future is never the way we imagined it…"
Or is it?
Samantha Jones is chair of the Mulberry Group.
---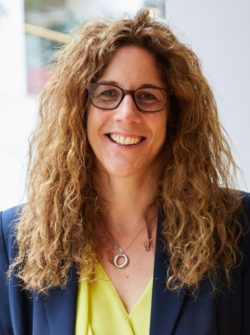 Samantha Jones
2 November 2017