Provider collaboratives: freedom and coercion
NHS trusts will soon need to join a provider collaborative, a move away from competition towards collaboration. But too much choice and 'freedom' to collaborate comes with risks - George Dellal explores some of the issues and outlines what makes for effective collaboration.
There's something about the way our minds work, which means that sometimes having too many options can be overwhelming, too much choice can increase stress.
I recall when I first moved to the midwest of America becoming paralysed at the supermarket when trying to buy some ketchup. The best part of a long aisle was dedicated to ketchup. How could I possibly choose the right one? I spent several minutes deliberating, finding it frustrating that this simple task was using so much cognitive energy and taking so long.
I notice something similar with my young children. Asking them "what did you do at school today?" gets little to no response; however, a more specific question about what they ate or who they sat next to always generates a swifter and more detailed answer. It made me wonder at what point does freedom and choice become a hindrance rather than an asset?
Stifling structures
From July, all NHS trusts will need to join a provider collaborative – a partnership arrangement involving at least two trusts working at scale across multiple places.
This is part of a wider shift in the way health and care is structured and organised that seeks to move the sector away from competition towards collaboration.
So often in the world of health and care, policy and regulation are criticised for being too rigid and too inflexible to meet the needs of local communities and contexts. Indeed, many health and care leaders regularly note how stifling structures imposed from the centre are and they long for more freedom to 'get on with the job'.
As Sir Richard Leese, chair of the Greater Manchester Health and Care Partnership, recently pleaded, "The system needs to try to minimise requirements and leave more flexibility at a local level to allow people to get on and do things rather than stop them."
Freedom and flexibility
NHS England has responded to these concerns in its approach to provider collaboratives. In place of detailed mandates and regulations, the purpose, objectives and governance structures are left to the participants to define and develop.
Its guidance urges ​​trust leadership teams "to demonstrate a strong commitment to collaborative working and instil collaborative cultures and a common purpose", and offers a sensible set of 'enablers' that should be nurtured.
Several potential structures and models are highlighted as examples of provider collaboratives for participants to consider and deploy 'proportionately'.
This freedom and flexibility is largely welcome, but there is a risk that nascent provider collaboratives will eagerly get to work on defining and developing their form and structure when the function of their collaboration is unclear, and before participants have been able to co-create their common purpose.
High-performing collaborations have a clear shared purpose and a focus on building the right culture.
Kaleidoscope's approach to effective collaboration notes that high-performing collaborations have a clear shared purpose and a focus on building the right culture. Developing these takes time and patience, but skipping or rushing these steps is a false economy.
After years of competition and organisational self-interest being the mandate and driving culture across health and care, relationships and trust need to be built and fostered. This also takes time and patience – commodities in vanishingly small supply in the current environment.
There is also the question of whether collaboration should or can be mandated by the centre.
Evan Rosen, author of The Culture of Collaboration, argues that it is at best suboptimal to try to force people to collaborate and that the collaboration works best when people are inspired to participate.
Compelling vision
When we coach on collaborative leadership, we encourage leaders to communicate and mobilise using a compelling vision that appeals to participants' inherent motivation to make a contribution to something bigger than their primary organisations. This is far more effective than trying to use hierarchy and authority to coerce people to collaborate
Last night as my wife and I spent more time deciding which of the seemingly infinite options to watch on Netflix, I thought that perhaps we should start by making sure we had a shared purpose and that we could use some help categorising and navigating the choices in front of us.
I couldn't help but think the same might well be true for collaboration across health and care.
---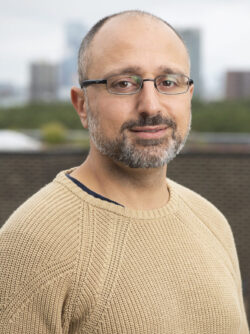 George Dellal
29 June 2022