Power to the people
As the NHS has restructured over the years we have taken professional tribes and overlaid them with organizational tribes – commissioner and provider, hospital and community, physical and mental health, health and social care. Sometimes we recognize this, and we learn to speak each other's dialect – but all too often we simply adopt a new jargon – the "special words used by a profession or group that are difficult for others to understand." And we hold on to our positional power.
And all too often, though we profess to place the patient at the centre, and we draw pictures with nice neat circles which show that, the patient is in fact trapped in his lifebelt, everyone looking on and aiming to help, but getting in each other's way, and perhaps fishing the patient out on to a bank far away from the point where he fell in the water.
What if we stood back and gave the patient's community the power to rescue themselves?
We also had an election 20 years ago, bringing Tony Blair and 'new Labour' to power. If you were working in the NHS in 1997 you might also remember that Labour announced a moratorium on hospital reconfiguration in London, pending a review chaired by Sir Leslie Turnberg. But that review excluded the changes at Edgware General Hospital in the west of Barnet, changes which had almost certainly cost more than one Conservative MP his seat, and which had necessitated police protection for the Health Authority.
I worked at Barnet Health Authority at the time, and we were required (by the then Regional Health Authority) to undertake our own review. Working with Harrow Health Authority and the four different NHS Trusts providing services on that site, we did something a bit radical. Instead of (again) telling the people of Edgware and Harrow what we planned to do and asking them to tell us what they thought, we said to the people that we would ask them to take the decisions.
A few months after the 1997 election we launched the 'New Edgware Review'. Hiring a large room at the RAF Museum in Hendon, and gathered together 150 people: patients, politicians, clinicians, members of the public, all of them equal players in the process. And we told them the – very simple – rules of the game: we did have to say that there would no longer be a full blown A & E department on the site, which was disappointing to some campaigners. But beyond that, there were next to no service limitations stipulated. Instead, we set the parameters around the resources available – 'we have this much revenue, this much capital and this much land. If we choose to sell some land, we can get some more capital.'
We made sure the group had the necessary expertise at hand – help with understanding the relationships between different clinical services, help with costing, and with design. We put together a board game which enabled people to trade land, capital and revenue as they tried out different service configurations. Over a three month period, with three plenary meetings and a lot of working groups in between, we gradually reached some consensus.
We agreed a prioritised list of services to be delivered on the site – and how they linked to other hospitals and community services. We reached agreement that some land would be sold for housing to fund the capital development. We might have realised more capital if it had been sold for retail, but housing was the acceptable use. The 'Hands Off Our Hospital' campaign changed its name to 'The New Edgware Hospital' campaign. And they continued to work with us as we developed the business case, and for the ten years it took to build the new hospital.
The new Edgware Community Hospital opened in 2007, in time for yet another, this time local, election that year. It's still there, serving the people of Edgware and Harrow.
In his excellent blog, Why are local campaigns fighting to save the NHS from transformation?, Jeremy Taylor argues that "The name of the game cannot be to cook up plans behind closed doors and then try to sell them to a sceptical public. Defining both the problems and the solutions has to be a partnership between professionals and the communities they serve."
The challenges we faced in Barnet 20 years ago are repeated again and again across today's NHS. And we are working with communities – geographic and demographic – which are more vocal than ever before, and more willing to take action for the things they believe in. I wonder how much we might achieve now by giving away power.
Like love, power is not a finite resource. The more you give, the more you receive in return.
Helen Buckingham is Director of Strategy at the Nuffield Trust, and a member of the Kaleidoscope Advisory Group.
---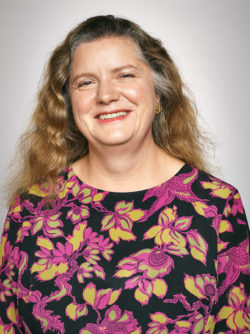 Helen Buckingham
22 June 2017