How to make a success of partnership working
A successful partnership depends on when and how to choose the right partner. In this guest blog, Jane Harris, CEO of I CAN, shares what she's learned from nearly 20 years of partnership working in the charity sector.
The charity sector has talked for decades about the importance of partnership working. But we need to think more about when and how to partner to really bring value to our work.
Here are my reflections and tips after almost two decades of varying degrees of success in partnership-working.
External circumstances
It is often external circumstances that bring partners together successfully. I was too young and green when I worked as part of the Mental Health Alliance to realise that many of the 85 organisations around the table – ranging from the Royal College of Psychiatrists to MadPride – had previously been at loggerheads. Only a Mental Health Bill that everyone thought was inadequate allowed user-led, family-led and professional bodies to gather and listen to each other. It's 14 years since the Mental Health Act finally passed, but smaller subsets of those organisations have collaborated and achieved great things together ever since.
Shared frame of reference
To build a shared frame of reference, start from understanding the world as your potential partners see it, and try to bridge the gaps between your perspectives. It amazes me now how little the mental health sector has historically discussed autistic people's mental health needs when they are so stark. But when I was part of that sector, I had no understanding of the intersection between autism and mental health. It was only once I had worked both sides of the fence that I could suggest a framework to join the two that made sense to both worlds. Try to identify the people who have experience in different worlds. Ask them to be brave and suggest a common analysis that accommodates different perspectives as a starting point for a conversation.
Who wants to work with you?
Focus on the people and organisations that want to work with you. It's not rude not to work with someone if you just can't find a common agenda or complementary roles in delivering that agenda. There are plenty of organisations I love but don't fit our strategy. It really is enough to wish them well.
Importance of trust
Without people who trust each other, it's impossible to move forward. You sometimes do have to wait for the right people to come into organisations and it's always worth trying again with an organisation after a change of leadership.
You don't need 'everyone'
Too often, civil servants and other funders want 'everyone' in a sector to work together. But you shouldn't pretend that an organisation has a contribution to make to a partnership when really the only advantage is that the funder would like 'everyone' involved. I have sometimes reached out to organisations under these circumstances and then breathed a sigh of relief when they didn't reciprocate. In one important instance the partners in the sector who did want to work together formed a really valuable partnership. Try to remember that every time you add a partner to any venture, you are adding in a cost – in both administration and relationship management. A framework I now use is to think through what a collaboration would achieve in terms of: greater impact, greater influence, greater income or greater innovation. If you won't get any of those by working together, it's not worth spending either party's valuable time on.
Take a risk
In a sector that hasn't had a long history of partnership working, someone has to take the risk of suggesting it. And often it's easier if one party steps up and simply says: "We think we're the natural leader on this and why – and here's what we think you could contribute that we don't have alone." Be clear, candid and open to challenge. Remember to acknowledge other people's strengths.
Clear non-negotiables
Be clear with yourself what your absolute non-negotiables are. With people you trust, you can then be up-front about them early.  Take the time to explain why – if you have genuine experience that a certain approach is the right one, that's a helpful contribution to shaping a piece of work, it's not a power play.
Speak from the heart
Try to speak from the heart. It's something that we all too often forget, even in a sector that's all about doing good. I have been lucky enough over the last two years to be part of the Society for Leadership Fellows and the best lesson I have learnt there is to sometimes ditch the logical, fact-based analyses and just to say calmly, respectfully and gracefully how you see the world and why. People engage with you when you do that – partly because it can sometimes be quite rare.
I've just started a new role as CEO at I CAN, the children's communication charity, and one of the things that attracted me to this great charity is its history of partnership working.
You can feel it runs deep throughout the organisation. I absolutely want to maintain that, but ultimately an organisation isn't defined by its partnerships, it's defined by its impact. We should all remember that.
---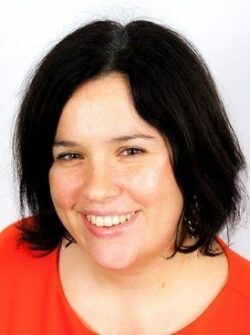 Jane Harris
17 June 2021