Parting words from an inside outsider: reflections on my time in health and care
I've never considered myself much of a 'health person'. Don't get me wrong, I care deeply about health. But now I am moving out of the sector (for now at least), I want to reflect on what I've learned during my time here.
I remember the anthropologist Margaret Mead's response to the question of what marked the first sign of civilization. Her reply was a femur that had broken, then healed. In the animal kingdom if you break your leg you die, be it from predation, starvation or thirst. To see a broken leg healed shows that the individual has been cared for while they were vulnerable, until they can fend for themselves once more. Health is not only a vital lever to increase wellbeing, but at its best it embodies the most noble elements of human nature: selflessness, care and compassion.
My interest in health before Kaleidoscope largely came through its role in wider moral and political considerations. Now I have just about got to grips with the difference between a PCN, ICS and CCG. I hope sharing my insights as an 'inside outsider' can prove useful, or at least vaguely interesting.
First, health is full of brilliant people. 
I have been struck by the sheer brilliance and devotion of near everyone I have come across this past year. Even in the context of values driven vocations, I believe health and care is truly exceptional. The Covid-19 crisis has reminded us all of the spectacular displays of humanity at the heart of keeping us all well. But there is a disconnect between that and the way our health system is structured. Working in health and care, particularly in the public sector, can be miserable.
The tragedy is that while some pressures will always remain hard to alleviate, other sources of strain are far less so. My experiences hearing the views of health staff has shown that often simple acts of thanks and recognition, basic provisions such as break rooms that are actually pleasant places to spend time, and a sense of involvement in the decisions affecting them can make all the difference.
What I have heard from people using health services and their families has been similar. Often these people have immense expertise of their own conditions and feel ignored and sidelined by a system that reduces them to statistics. As that broken bone showed, health and care should be about humanity. To fix our current system we must reorientate it around the humanity of those within it.
Second, our approach to health is too narrow. 
The psychologist Ian McGilchrist writes about the different nature of our two brain hemispheres. While there may not be a difference in what they do he says, there is a marked difference in how they do it. To grossly oversimplify, the left hemisphere has a narrower focus. It zeroes in on parts of a whole to pursue certain goals in a logically consistent way. The right hemisphere functions to reintegrate that understanding into a wider picture, seeing the world as an interconnected whole. McGilchrist argues that in Western society the left hemisphere has come to dominate the right, not only at the level of individual thought but in how we have structured the world around us. Whatever you might make of this as an explanation, it articulates what I have felt for a long time is the most pressing issue in health and care.
Our entire approach to health is predicated on its atomisation into narrow and discrete areas of focus, treated through interventions targeting only these individual areas. Now a degree of separation, and the specialisation it creates is necessary. Understanding particular conditions requires delving deep into their specific intricacies. What is missing, however, is the other side of this coin, where we reintegrate specific knowledge into a broader, more holistic picture of human health and wellbeing.
The social determinants of health, for example, have long been lauded as a necessary lens through which to view health issues,  yet little 'health work' gives them so much as a passing gesture. Even at the bodily level, the complex system of our physiology and the interrelation of the biochemical processes giving rise to health issues is rarely discussed, let alone placed at the centre of our approach. I am of course not arguing that we abolish specific treatment altogether, but this focus has devolved our health system into a giant game of whack-a-mole, addressing individual conditions as they arise with no real space afforded to holistic approaches to prevention.
Health is not only a vital lever to increase wellbeing, but at its best it embodies the most noble elements of human nature: selflessness, care and compassion.
Third, health policy is too removed from other areas of policy.
Health systems and health policy treat health as if it is an island, unaffected by the causal tides of the wider world. Again, I hope the Covid-19 crisis has to some degree opened our eyes to the absurdity of this pretence. A 'health issue' has wrought havoc on every segment of our society from education to economics to food systems. Not only must we acknowledge that social factors play a large role in our health as individuals, but that at the macro level health issues and our approach to them have effects that ripple through the very fabric of our civilisation.
References to complexity theory have become quite the vogue in modern health discourse.  Yet policy rarely acknowledges that not only are health systems themselves examples of complex systems, but that a truly adequate approach to health and care must situate these within the broader complex system of our society. From political polarisation to climate change, the shocks to our social system are only going to increase in severity.  The only way to weather them is to ensure that our approach to health truly acknowledges the principle of interconnectedness.
These musings may appear pessimistic or condemnatory, but they are offered as a critical friend. My time in the health sector has provided me with life affirming experiences,  relationships with some of the most astonishing people I have ever met, and an opportunity to see the behaviour that should shape our wider society.
I will forever be filled with pride when I reflect on my time working here. Perhaps I have, at least in part, become a 'health person' after all.
---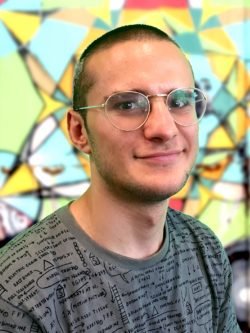 Theo Cox
9 October 2020