Ophthalmology from Budapest to Britain
My grandfather was one of the first NHS surgeons, becoming a consultant ophthalmologist in North Wales in 1948; my father was a consultant physician from the early 1970s. And I'm a consultant of sorts at Kaleidoscope, which is not part of the NHS but functions, we hope, as a benign disruptor in its ecosystem. 
Seventy years after its birth, the NHS continues to exert a strong gravitational pull on my family, and on so many other families. And my family is an early example of another NHS phenomenon that has grown in importance over the generations – and, like the NHS as a whole, is perhaps at a turning point. Since its inception, the NHS has been a generous employer of migrants.
My grandfather was already a qualified eye surgeon when he migrated, with his wife and baby son, from Budapest to Britain in 1936 – in search, so the story goes, of opportunities in the new technology of contact lenses. But surely also in search of a country that was not sleepwalking, like Hungary, into fascism.
But his qualifications were not recognised in the UK, so he began the task of revalidation, armed with a good medical education and a knowledge of English gleaned from reading Dickens. By the time he was ready for work, the war had begun and his hope of a normal medical career had to be deferred.
The donors were Blitz victims, transported under secrecy to hospital where the blind airmen waited to receive their ration of one cornea each.
His ambiguous professional and national status made him a good fit for a role in one of those extraordinary, secret bits of the wartime state – a sort of ophthalmic Bletchley Park.
During the Blitz, he carried out corneal grafts on airmen who had been blinded by flashes from exploding anti-aircraft shells. Corneas could be successfully transplanted, but they remained viable only for minutes.
The donors were Blitz victims, transported under strict secrecy to hospital where the blind airmen, summoned by phone at the first blast of the air raid siren, waited to receive their ration of one cornea each – not enough to replace what they had lost, but enough to give a blind man his sight.
The procedure broke new ground not only surgically but also ethically. In the 1940s, there was essentially no ethical framework for organ donation. Donors were of course unconsented – there was no process for giving consent and the circumstances were maximally distressing – but the rigid-jawed utilitarianism of wartime culture prevailed. A cloak of secrecy spared the squeamish the necessity of confronting the ethical dilemmas.
As the war ended, my revalidated grandfather was able to resume a more conventional surgical career, and he completed his retraining in North Wales where, after some huffing and puffing, he was offered a full consultant post on an NHS contract. The story goes that a letter addressed to Mr Laszlo, North Wales, would reach him.
For him, the NHS provided a fast track to the kind of contented assimilation that he wanted. As migration seems to be getting harder, let's hope that the NHS can continue to harness the talents and commitment of a diverse, humane and global set of people who are drawn to its ideals and able to work around its foibles.
---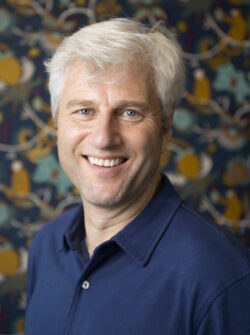 David Laszlo
31 July 2018