"Never make predictions – especially about the future"
When Richard Taunt invited me to do this, I should have given him a warning. That my least favourite forms of fiction are science fiction and fantasy. That when it comes to the future, I am right there with the American baseball star Yogi Berra – to whom is often attributed the famous quote: "Never make predictions, especially about the future."​
Fortunately, Richard made clear that all I needed to talk about is the past – before finding out who has won Writing the Future, the future of health and care in 2100.
Now, I have a 96-year old mother who is still all there, as they say.
And you reflect on her life. When she was born in 1921, there was no broadcast radio, other than the efforts of amateurs. BBC Radio did not start until 1922, and then only for a few hours a day. Back in 1921 there were fewer than a quarter of a million telephones in the UK – all of them landlines – and most of them business lines. Rural telephone exchanges, where they existed, usually shut down in the evenings and on Sundays.
BBC Television did not start until 1936, broadcasting to a tiny number of sets, before being closed down during the Second World War for fear that German bombers could navigate by the signals.
And during that war, pretty much only Alan Turing, in secret, was working with the closest thing the UK had to a computer. In 1943, when computers were still huge, valve driven, machines, the then president of IBM thought there might be a world market for perhaps four or five of them.
Today, like everyone else, my 96-year old mother has a mobile, a computer and uses email and the internet. When you look at that pace of change it shows just how adaptable human beings can be. I do wonder how she does it!
And all of what she uses today was pretty much unimaginable – certainly on its current scale – back in 1934.
1934 being 83 years back from today, just as these essays, about 2100, are 83 years in the future.
So what was happening then?
The very depths of the Great Depression, which finally turned the corner that year. The rise of Hitler. The slaying of Bonnie and Clyde by the FBI – and the tendency of the US police to shoot first has not changed much since.
But on happier and more entertaining notes, the first picture of Nessie, the Loch Ness Monster, was taken. The Flying Scotsman hit 100 miles an hour, though chiefly on a stretch of line that went marginally downhill. Sophia Loren, Tom Baker – with a glance to the future, the fourth Dr Who – were both born in 1934. As were Yuri Gagarin and Brian Epstein – the latter two being, for those of you too young to remember, the first human in space and the manager of the Beatles.
The best of the science fiction of that year was EE 'Doc' Smith's 'Triplanetary'. Telling the story of two super-races battling to control the universe. A serialisation which, in the eyes of some sci-fi buffs at least, contains the origins of Star Wars.
Today we are clearly in the foothills of a second technological revolution – strictly speaking, two of them – that will, yet again, transform health and care.
As for health and health care – the subject of these essays – it takes in practice a massive feat of imagination to recall how different things were.
Back in 1934 there were no antibiotics. Fleming had, so to speak, discovered penicillin in 1928. But it was to take the work of Chain and Florey in the early days of the Second World War to turn it into a workable medicine.
There was nothing with which to treat mental illness – except perhaps conversation, which these days is known as cognitive behavioural therapy.
These were still the days of the massive Victorian lunatic asylums where the stench of paraldehyde filled the air – a powerful sedative that kept the population quiet without making them better. It was to be 1953 before a Paris drug house discovered the first of the phenothiazines that made the chemical treatment of mental illness possible.
And that was just the start of the pharmaceutical and technical revolution of the 1950s and 1960s – one that saw the first effective treatments for diabetes and high blood pressure, the arrival of the contraceptive pill, and of Valium – 'mother's little helper' in the Rolling Stones song, and which drug companies, under the advertising rules then in place, were still allowed to call 'the happiness pill'.
And then first kidney and later heart, lung and liver transplants. And on into the 1970s with the arrival first of CAT scanners, then MRI and now proton beam accelerators.
Only a genius in 1934 would have foreseen any of that, let alone all of it.
Today we are clearly in the foothills of a second technological revolution – strictly speaking, two of them – that will, yet again, transform health and care.
First, genomics which is promising not only to differentiate the many different conditions that consist of broad categories of disease – from cancer, to heart disease to arthritis – but then to allow tailored treatment based on your own genes.
And second the arrival of apps, GPS and robotics which have the potential to transform social care and, with that, its interactions with health care. With the two feeding back into each other.
But – if you take what could have been foreseen in 1934 of the first pharmaceutical and technological revolution – it is, I suspect, clear that, while we can foresee dimly where genomics, mobile technology, robots and artificial intelligence will take us, there may well be a third or fourth revolution before 2100 which we cannot even imagine.
​
But that was the challenge set to those who entered this competition. And, as I said at the beginning, I am delighted it is them who have had to do this, because I make no predictions. Especially about the future.
Nicholas Timmins is a senior fellow at the Institute for Government and the King's Fund. Between 1996 and 2011 he was public policy editor of the Financial Times. He is also a visiting professor in social policy at the London School of Economics, and at King's College, London in public management. He is a senior associate of the Nuffield Trust.
This is the keynote speech that Nick Timmins gave at the Writing the Future awards evening.
---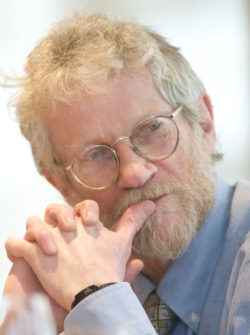 Nick Timmins
27 October 2017