Networking of the people, by the people, for the people
When I talk to people about what Healthwatch is, the fact that we're a network is the first thing they need to know. The way we gather, amplify and share people's voices to drive improvement in health and social care only makes sense in that light.
Healthwatch England's power may come from statute but our energy comes from the people in our network.
I'm not setting out the Healthwatch case to be considered the best network or a model for others. I'm not saying we've yet learned how to get the best from our collective efforts every time. And I'm not arguing that everything we've learned so far is applicable in other contexts. But I do believe our experience is worth sharing as part of the wider conversation Kaleidoscope are starting during #Networkfest and beyond, and I'm looking forward to what we'll be able to learn from other networks as part of that discussion.
What we are and how we work
The 2012 Health and Social Care Act required every top-tier council in England to commission a local Healthwatch to:
help people find out about local health and social care services
listen to what people think of services
help improve the quality of services by letting those commissioning and delivering services know what people want from their care
encourage people running services to involve people in changes to care.
It also established Healthwatch England to lead and support the resulting network of 152 organisations, and to share the network's insight with national decision-makers.
But that's pretty much as far as it went in describing how that should work and feel, so what have we done to build the relatively cohesive network of 2017?
Common cause, shared values and a strong identity
It was vital from the start for Healthwatch England to focus on providing a clear description of what we would do, how we would do it, and why. That led to a constant focus on the Healthwatch values developed during our set-up consultation.
The benefit in terms of the strength of a new and growing network was that, while we've never wanted or tried to impose the values on local Healthwatch, this framed and focused our discussions with local Healthwatch about how we could best work together. Many local organisations adopted the values, the ethos behind them, or both.
We also own the Healthwatch brand (if you see pink and green on anything to do with health or care, that'll be us) and authorise its use by local Healthwatch. But the value of that isn't the legal power to withdraw the trademark licence. Instead, it comes from the impact our support for the shared identity has upon local awareness and the way that helps local Healthwatch reach and hear from more people.
For an example of how that works, have a look at our #ItStartsWithYou campaign
One of the key things we've learned is the power of bringing people together in different ways based on individual interests and then sharing what that generates with the whole network.
The consistency challenge
It's not our role to manage local Healthwatch performance. That's for their commissioners to do. But it is our job to help those commissioners and those running local Healthwatch organisations have a consistent picture of quality. In 2015 we worked with the network and with Leeds Beckett University to develop our Quality Statements, enabling better and more robust commissioning discussions and creating opportunities for peer review.
Learning through networks within a network
One of the key things we've learned in our early years is the power of bringing people together in different ways based on their individual interests and then sharing what that generates with the whole of our network.
As well as the basics, our network run quarterly regional network meetings for local leaders, out of which we're starting to see the growth of regional events that bring together a wider range of staff and volunteers.
We also use Yammer to provide an online platform that connects the whole network as well as hosting a spectrum of groups based on role, subject interest or geography. While that doesn't work for everyone, it's a heavily used resource and lets us inform and get feedback from network conversations. It links to both our online Hub and Communications Centre, where local Healthwatch can find guidance as well as templates for print and digital communications work.
Each year we bring the network together for two days of workshops, plenary discussions, skills development and – crucially – celebration through our network awards. We've captured the flavour of this year's event in a Storify.
And finally…
The beauty and the power of our network is that at every level we feature as nodes in other networks, connecting people with health, social care, national and local government as well as the voluntary, community and social enterprise sector.
So if your network needs to know our network, let's talk – @NTtweeting 
Neil Tester is Deputy Director of Healthwatch England.
---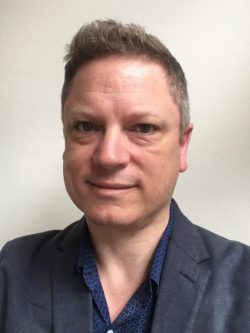 Neil Tester
20 September 2017