Networking: making friends with purpose
Dear Sceptical - I too was there once! Confused and uneasy about networking. To be honest, I hated the word networking (and still do!). It seems so cold, impersonal, and it really should only be used for computers talking to computers.
It took me a long time and much hand-wringing to finally understand the hidden magic behind the word.
Networking is a terrible misnaming. It goes way back to the 1550s, (yep, that long ago!), referencing interconnected wires and strings into nets and meshes. Some 400 years later, it's used for the first time to describe interconnected people.Now, that in itself might not be so misplaced; however, by 1990, 'networking' became a buzzword in the world of business and was meant as a proactive activity – to 'build one's personal network' –  to extract value at a later date.
Someone, sometime between 1950 and 1990, is the culprit of the flub. If you analyse the intent of networking, it's really just a form of making friends. Isn't that precisely what friends do at some later date, pitch in to help out when you are in need?
Buy why was 'making friends' shunned by the business world? While I don't have any factual answers to this question, I do have some wild-ass guesses. Mainly, that the world of business in the 20th century was an industrial, efficient, dehumanising beast (that also revolutionised that world). 'Making friends' was just not utilitarian enough. 'Making friends' is steeped in emotion, caring, and joy, which have no pace in mechanical approaches.
With relief, at the start of the 21st century, new attitudes and approaches in business began taking root. Human-centred design was embraced as an approach to deep value creation for both products and services. As organisations realised that their customers were real people with real needs and emotions (!!), they started to realise that their employees were also real people with real emotions. Viewing customers and employees as people in our communities began re-layering human complexity back into our systems and unlocking new forms of value.
'Coopetition' was also emerging around this time. A combination of competition and cooperation, coopetition shifted perceptions of the world around us from that of a land grab to something that – should we do this together – could be so much bigger and grander than if we did it alone. Purpose and passion (more human facia) started connecting competitors in new ways. And this too, unlocked new forms of value.
All this to say, 'networking' is really 'friends with purpose.'  And 'friends with purpose', along with their organisations' might, resources and reach, transcend their individual reaches to create more meaning and value out of complexity. And so, I am no longer sceptical. I am no longer weary of shaking an unknown, new hand because it's not about what value we can extract from each other, rather it's about what we can do to bring greater value to the world…together.
And it all starts with a glass of wine, some good food, and a stranger or two.
Warmly and with gratitude,
Chris McCarthy
Chris McCarthy is Executive Director of the Innovation Learning Network and Vice President (Strategy and Innovation) of HopeLab. 
---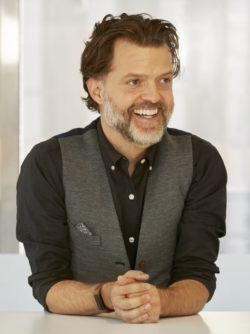 Chris McCarthy
27 September 2017