Let's get some problematic people off the #BeKind bandwagon
The hashtag #BeKind is now pretty ubiquitous. And that is nice. We love kindness at Kaleidoscope. But Charmian Walker-Smith suspects there are some people who are happier using a hashtag rather than lead by example. We need actions rather than words.
So it is official, Kindness is having a moment. Popular artist and sequin enthusiast Harry Styles has recorded a delightful song called 'Treat people with kindness'.  We are thrilled.
We've been banging on about kindness at Kaleidoscope forever. It's in our mission, so it is basically one of the reasons we were set up. We don't just blog about it endlessly, it is the top requirement in our recruitment, we have a kindness manifesto on how we treat each other.
It is exhausting carrying the kindness mantle. I, for one, am more than happy to share this load with Harry. I'd be more than happy to share most things with him: this tub of chunky monkey, custody of several small dogs, a bath.
The point is it's good that kindness is getting the love it deserves. It's nice to see that people on social media use the hashtag #BeKind. But it isn't enough. It isn't adequate to say kindness matters, you have to do kind stuff, otherwise it's all just a load of hot air.
No doubt Harry is a paragon of all that is good and kind. But there are people leaping on the kindness bandwagon who aren't as conscientious. Melania Trump created a Be Best initiative to address bullying and promote kindness online.  It was a campaign she said was inspired by 'compassion, strength, and kindness.'  And yet, she was silent when her husband mocked people online and incited a crowd to 'stop the steal' at the US Capitol.
And it's not just stony-faced First Ladies who profess kindness without demonstrating it in how they behave. It happens in health too. Just the other day Dr Andrew Mackay got more than 1,000 likes for his tweet expressing his frustration that NHS colleagues say 'Be Kind' while undermining efforts to improve the mental health of their colleagues.
Dear NHS colleagues,
Saying "Be Kind" while actively acting against efforts to improve the mental health of your colleagues doesn't make you a Wellbeing Advocate, it makes you a problem.
Words aren't enough.
Thanks

— Dr Andrew "AndyVax" Mackay (@drandrewmackay) January 14, 2021
It will never be enough to say 'Be Kind'. You need to 'DO Kind'. Kindness shouldn't be reduced to just virtue signalling, it needs to change how things are, make the world a better place. Good Lord, we need things to get better. It's about actions not words.
And by actions I don't mean just paying for coffee. I mean proper meaningful stuff. At Kaleidoscope kindness shapes not only what decisions we make but how we make them. Everyone has a chance to contribute, to have a voice. We have transparent meetings where everyone is not only able but expected to take part. Does that make for easy decision making? No. Does it mean we all work in blissful harmony? Also no. But it does mean that we all know what our actions mean for each other.
We have a lot of disagreements at Kaleidoscope, sometimes about quite major decisions. There's no point pretending we don't. But we do talk about it, we listen, compromise – or accept that others have put forward a better argument for a decision we might not agree with. We work it out kindly.
Obviously it's more straightforward to maintain a culture that prioritises kindness if an organisation is small. But I don't think that the size of an organisation should be the issue. Kindness can exist in hierarchies, but it requires good leadership.
If you are in charge of a team and you care about their mental health, insisting everyone remembers to #BeKind doesn't cut it. I don't have the answers but people in that team will. Nobody can really expect that exhausted NHS teams can continue after a year of pandemic without proper support.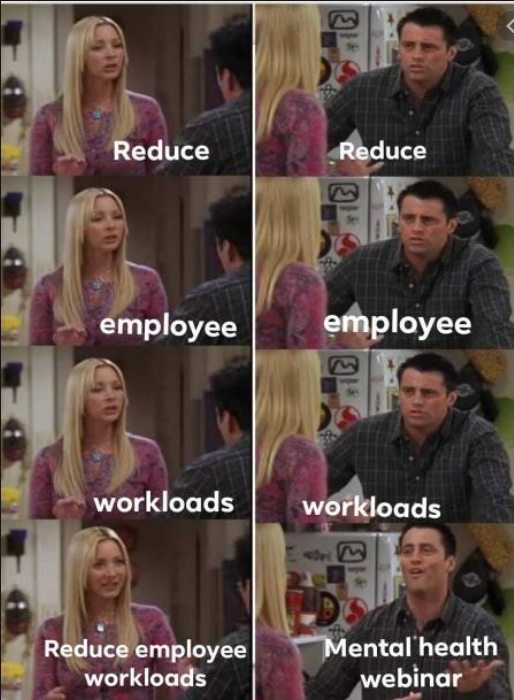 If you don't back up the words with activity there's a real danger that kindness becomes a fashionable but empty idea. We can't risk it. For a start it might make dear sweet Harry sad and I won't let anyone make Harry sad. But more importantly, certainly in my lifetime, we have never needed kindness more.
---
Charmian Walker-Smith
18 January 2021