Home and away: having a different conversation about collaboration
Are you the same person at work as you are at home? Some? A bit perhaps? This might matter to you immensely, or not at all, but almost all of us would see there being some difference between how we think personally and professionally. Sometimes this is helpful (not everyone needs to know about your Panini sticker fascination), but sometimes it's not.
The annual NHS Providers conference is an extravaganza of the complexity of healthcare policy. Critiques of control totals, tinkerings with tariffs, and processes to produce plans abound. This is peak-profession conversation (I don't know how your household runs, but it probably doesn't have much room for marginal rate emergency rules).
So is there space for a different form of conversation, more focused on the personal than the professional? It was a pleasure to chair a breakout session at the conference about success factors for collaboration, with over 60 leaders from all types of NHS trusts and beyond.
We asked the group to think about the most effective working relationship they'd had with someone outside of their organisation, and what made it work. What came back? Trust. Shared goals. Honesty. Mutual respect. Regular communication. "Knowing that the person does not have a hidden agenda, that they're not saying one thing and doing another," said one. "There when the world got tough," wrote another. Or just simply "it was fun." The wordcloud below maps the total responses.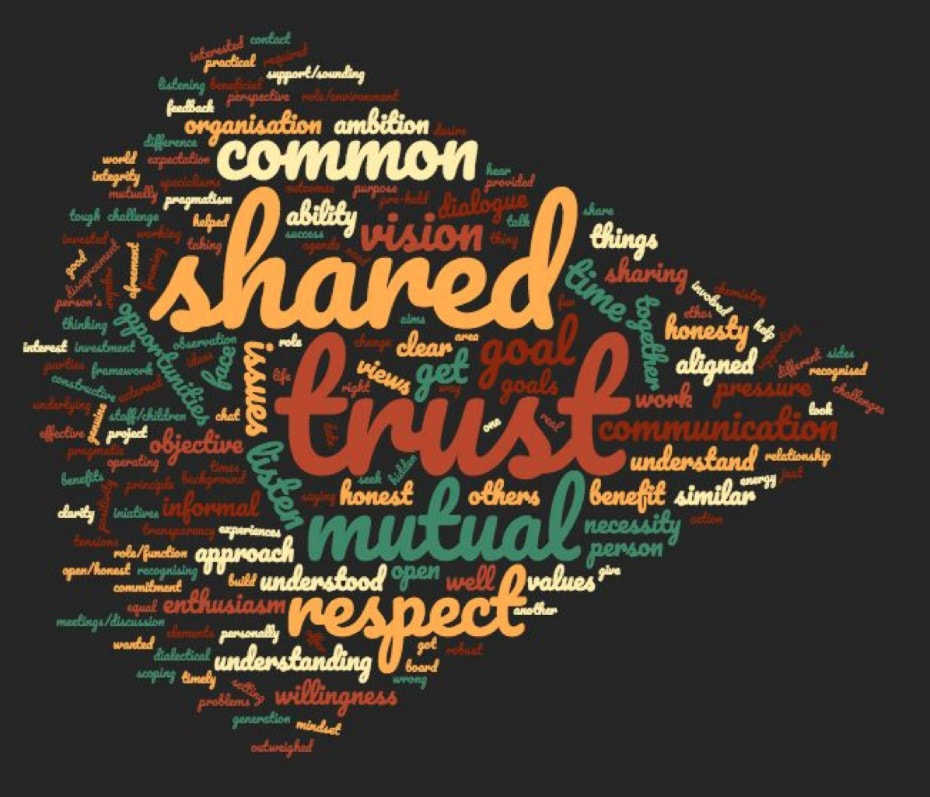 Just as notable as what people did write is what they didn't. At Kaleidoscope, we run this exercise often, and no-one is yet to say the key to their effective relationship came from having the right contract in place, or having a whizzy governance model imported from overseas. Even being from the same profession barely gets a look in.
This conversation is very different to peak-professional. It is, however, very close to what we all know from our personal lives. On meeting someone at a party, we don't do a quick check of our financial incentives before we decide if we want to be friends with them (if you do, I'm sure there are people who can help).
What does all this mean? It's not that technocratic-policy is pointless, although we certainly over-estimate its importance to affect change among those delivering healthcare. Neither is it to see the personal conversation, the so called 'softer' stuff, as beyond intervention – it's not. In an earlier blog, I wrote about the myth that collaboration is all built on 'organic' relationships that depend more on serendipity than anything else.
This is tosh. It neglects the importance of the environment in which such relationships either flourish or fold. Here's a quick exercise: take the factors above – trust, honesty, and so on – and brainstorm how quickly you could drive them out of a team, or organisation, or healthcare system. What you see is that seemingly amorphous concepts are affected by pretty much everything we do. Details matter.
The secret to collaboration is that there is no secret. We all know what it feels like to be treated honestly, with respect, with kindness – and that without these, relationships rarely last. What we struggle at is how to import this personal experience into a professional world, how to build an environment amid the complexity of healthcare which is going to systematically and sustainably promote the factors we know are so important. It's this question we're fascinated by at Kaleidoscope. If you are too, let's meet for a coffee – we'll pay, honest.
---
…we'll let you in on a secret about Kaleidoscope's funding. Spoiler alert: it's not a secret. We're a business. We design and support collaborations, run events, and help to develop strategy and policy. Our work is shaped by our clients' challenges. We'd love to hear about yours: find out more.
---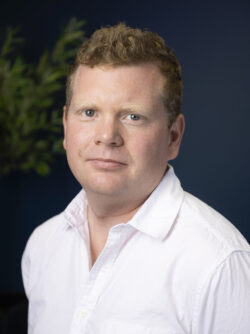 Rich Taunt
10 October 2018