From fact to fiction
Having been part of the panel judging the splendid recent Writing the Future competition, I've been asked to pen a few words about the writer's job; specifically how the world 'out there' gets filtered through the writer's imagination so that it arrives 'down there' on the page.
Life is messy and inchoate. We writers are mining it for truth. Disobligingly it refuses to manifest itself in convenient five act structures for us simply to copy down.
We have to take the material that catches our eye, then twist it, invert it, hold it up to the light, discuss it endlessly with ever patient friends, pray to the muse, hammer at it, re-contextualise it, despair of it, subject it to analysis and criticism from editors and producers till finally, finally, we have something that we can present to the world. By the time it's gone through all that, it rarely bears much resemblance to the incident that fired the imagination in the first place. And yet – if we've done our job properly – we've written something that is 'true'.
How come?
The story of how I wrote my first radio play might shed some light on the process.
Back in the summer of 1983, I was working as a musician for a Scottish theatre company. The show was up and running, so I had my days to myself spent alone in a dingy flat on Sauchihall St. I was determined to use the time constructively. I had my late mother's portable typewriter with me so I resolved to teach myself to touch-type. To which end, I bought myself a Teach Yourself book and spent four hours a day every day going through the exercises. At the end of a fortnight, I was more or less proficient. To cement my newly acquired skill, I decided I had to type something 'long' so that I wouldn't revert to my bad old two-fingered habits.
I'd always thought I'd be a writer one day. I didn't realise that this moment was to signal the moment that dream would turn into reality.
I had an idea which I thought contained possibilities. Ten years before, as a spotty 18 year old, I'd taken a summer job at the dismal head office of a furniture retailer on Empire Way, Wembley. It was only temporary because that October, I'd be heading off to Manchester and university. The office was a dreary place. Wages were poor, the work dull and anything resembling esprit de corps was non-existent. There were people who'd been there 30 years. It's as though they'd gone there to die. Very slowly.
With one exception. There was one man – I can't remember his real name – but in the play I called him Henry, so let's stick with that – who worked upstairs in stock records. Henry was probably in his mid forties. He was vain, garrulous and reeked of desperation and loneliness. He considered himself a cut above the sheep that made up his fellow workers and seized upon me as a fellow 'intellectual' with whom he could discuss literature politics and the arts.
I was very naïve back then but not so naïve as not to realise that this was largely a ruse. He wasn't so much interested in my views on art or literature as what was in my pants. He was forever inviting me round for dinner and I was forever politely coming up with excuses as to why I shouldn't. Then one day, he overheard me complaining that I had nothing to do that night. This was his chance. I was ensnared.
What had started out as a gloomy bit of reportage had been forged and welded into a work of art.
I've neither the space nor indeed the photographic memory that would allow me to recount exactly what went on that evening. The good news is that I survived unscathed, but those three or four hours became lasered onto my memory as among the most embarrassing and cringe-worthy that I'd ever experienced.
In other words, first class material.
I started off trying to write down the incident exactly as I then remembered it. And boy, was it dull. I had three or four false starts, never getting beyond page five. All those attempts ended up in the bin. I was close to despair.
Then I had my big idea. It came from left field and completely surprised me.
Rather than tell the story as I'd remembered it, how would it be if I were to tell it from Henry's perspective?
Suddenly, I was off. I became inhabited by this guy. I couldn't get the words down fast enough. The muse was screaming in my ear and I was simply taking dictation. And in doing so, a story that had been grubby and sad and solipsistic took on an almost tragic dimension.
In three days I had a completed manuscript. It was eventually produced (that's another story altogether) and once it was, I soon found myself commissioned to write another. By the end of 1987, I was able to give up the music business for good and became a full time professional writer. Which is what I've been doing ever since.
Was my play an accurate reflection of what went on that night? Was it literally 'true'? Probably not, but nevertheless I like to think that it still said something about the human condition that felt true…What had started out as a gloomy bit of reportage had been forged and welded into a work of art, that amazingly – almost 35 years later – I'm still rather proud of.
Many years of practice and literally hundreds of scripts later I've become pretty proficient at turning an idea into an acceptable finished product.  But that doesn't account for the moment of magic. The moment when things turn upside down and demand to be seen from a new perspective.  When the muse starts screaming in your ear.  When it does happen, it's still as surprising and revelatory and joyous as it was back in the summer of 83 in that dingy flat on Sauchihall Street.
Christopher Reason is a core writer on Eastenders since 1993, and writer for numerous health dramas.
---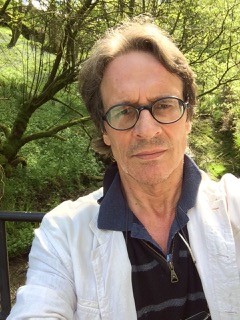 Christopher Reason
31 October 2017