Why we must understand the food system to make it work for health
It's pretty obvious these days that food is vital to health. What we eat affects our physical and mental health, our risk of disease, our weight, and, for millions of children around the world, whether they live to see their fifth birthday.
It's also pretty obvious that improving what we eat is hard. When we look at people's daily lives, it becomes clear why eating well is such a tough ask.
At the London Child Obesity Taskforce, on which I serve as Vice Chair, we recently put together some profiles of the daily lives of children.  A child we called Hannah, for example, is looked after by her sick grandma in the mornings because her parents have to leave at the crack of dawn for their jobs. Serving Hannah a quick bowl of sugary cereal is a lot easier (and cheaper) for grandma than spending the time it takes to make the blueberry and banana smoothie recommended by Change4Life.
When Hannah gets picked up from school by her mum, they go to the shops together. Within a limited income – despite two jobs – mum picks out what is on discount, not necessarily the healthiest option.  Hannah, meanwhile, loves the cartoon packaging she sees, begging her mum to buy her the sweet treats strategically placed before her.
Underpinning what Hannah and her mum buy and eat is what we call 'the food system': the interconnected system of everything and everybody that influences the activities involved in bringing food from farm to fork. This is something that children have no control over, and which we are only aware of because of what we experience in our food environments – advertising, for example, the high presence of fast food, and the prices we pay.
The people doing this are unlikely to be deliberately wanting to make kids sick, so what are the incentives making them behave like this?
What lies beneath is a big, opaque, murky affair. One of the very first projects I ever did on food was an exploration of the marketing techniques multinational companies were using to get kids to consume more fast food and sugary drinks around the world. In industry-published reports and the trade press I was reading about how fast food chains were getting young kids hooked so "you'll have them until they're 90" and how sugary drinks giants were "focused on working our way into the skin of younger people."   Their 'schools programmes', for example, created new points of sale and packaging in schools, credited in one market of increasing sales to school kids by 50%.
I was horrified. But it also made me think:  the people doing this are unlikely to be deliberately wanting to make kids sick, so what are the incentives making them behave like this? While the oft-cited answer is simply profit, I have found in the 20 years spent since then trying to answer this question that there are a lot of things that can be done in the food system to change these incentives.
We can change the cost advantage of growing crops that are used as ingredients in fast food; we can invest in distribution systems and small businesses to make healthier food more available to people on lower incomes; we can make new competition laws that favour health rather than the lowest cost at any price.
The trouble is: we are not doing this. There is no cohesive food system strategy for health. We need one. We need a food system with a new set of prerogatives, a system redesigned to help people thrive rather than making them sick, while also nurturing the planet and creating economic opportunity. It's a hard ask, but one which could be transformative for health.
Professor Corinna Hawkes is Director of the Centre for Food Policy at City, University of London.
The issues raised in this blog will be part of the discussion with Corinna at the Melting Pot Lunch on 3 October.
---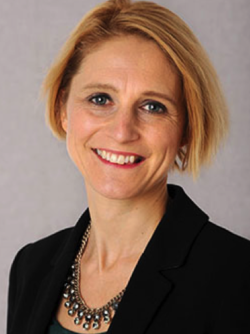 Corinna Hawkes
26 September 2019