Doing the robot: running a successful 'hybrid' event
At Kaleidoscope we used to run some pretty amazing face to face events, if we don't say so ourselves. More recently, we've been running some pretty amazing digital ones instead. As things have begun to open up again, we've been asked to organise events once again *pause for dramatic impact* in person.
This has been interesting in a couple of ways. The first is that we've all sort of forgotten how to operate our legs for anything more than 5 minutes at a time. Second, we're aware that attending events in person just doesn't work for everyone.
As an organisation that prides itself on facilitating inclusive participation, we've had to think hard about how to ensure people can get the most out of our new crop of face to face events, whether they're able to join us in the room or not.
Enter the 'hybrid' event, hosting a mix of digital and in person participants. We may not have cracked it entirely, but after a  successful first run, we thought we'd share what we've learned.
Aim for equality between digital and face-to-face participants
One of the most important considerations for us, when designing a hybrid event, is that everyone can engage equally regardless of whether they are physically in the room. The last thing we want is a bunch of faces on a laptop just about managing to tune into what was being said and certainly not being able to contribute to it. We've all been to a face to face meeting where some poor souls are trapped in a teleconference phone only able to pick up one word in ten. Engaging as equals? Far from it.
We also think a lot about psychological safety – where people aren't inhibited but have the ability to share opinions in an atmosphere of mutual respect, trust and interest – in our events. This is key in all contexts, but particularly in the hybrid world; digital participants are already likely to feel they're not going to be listened to as much as those in the room. You need to work hard to counter this.
Invest in making it work, quick solutions won't cut it
That's why we've started using what we affectionately call our robots – remote attendees joining one per ipad, with a good microphone and speakers, and on a stand at roughly head height. With one participant per stand, they can join whole group discussions, or breakouts, or in person participants can sidle over for a quick chat. While not designed for large groups, with teams they work remarkably well, winning great reviews from our clients such as NHSX.
…involving digital participants properly involves much more resource than sorting out some dial in details.
The upshot of this is that involving digital participants properly involves much more resource than sorting out some dial in details. It requires running around by physical helpers to transport the robots, sorry digital participants, as well as the necessary technology to ensure good sound and picture. Maybe remote control robot avatars are just around the corner, but until the RoboDelegate arrives to do what's necessary, it is going to take quite a bit of sweat and tech.
Planning and testing, then test again
We bang on a lot about planning and testing at Kaleidoscope, and for good reason. They're important to ensuring any event goes well, but particularly one that's pushing into a brave new frontier of technological capability.
That sounds a bit grandiose, but you see the point.  The digital delegate experience has to be as seamless as possible.  And that's still new for everyone. From figuring out how to use Zoom in new ways, to moving digital participants around a physical space, to ensuring they can both hear and contribute to everything going on around them – having a clear plan for how that will work and ensuring each bit is tested so you know it works, is absolutely essential.
We've all experienced technical difficulties over the last few months and know how stressful these can be. Now imagine that, surrounded by a room full of people you're also meant to be facilitating and you'll understand why we see this stuff is so vital. Even small difficulties lead to a bad experience for those in the room, not just those joining digitally. A hybrid event is never going to feel completely normal, but minimising any technical hiccups is one way to keep it as natural as it possibly could.
So if you're keen to get back together in person, but still want to allow people to 'dial in', it's possible. And we'd love to talk more to you about how to make it happen.
---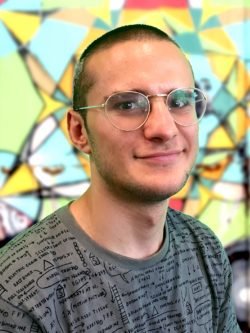 Theo Cox
18 September 2020