Conversations
I was told an uplifting story the other day that made me reflect about the conversations we have. Or more accurately, the conversations we don't have, and what this might mean for our health. It was about a lady, not originally from the UK. She was coming on her own, almost every other day, to her local GP in south London – invariably without an appointment. 
Apparently, every time she left the GP, she would go sit on a bench opposite the surgery. Sometimes for quite a while. Just there, on her own. One day, a receptionist asked the practice manager if she could go out and sit with the lady. They had a long chat, going well over the receptionist's lunch hour.
I don't know exactly what they spoke about, but I like to imagine that maybe they discussed the weather, and what it was like to live in London, and be new here and not know people, and to be a little lonely.
Whatever it was, the conversation must have been some kind of wonder drug. It had a huge restorative effect and the lady came to the practice less and less, seemingly in much better health.
So: that conversation between the receptionist and the lady. That's a conversation that often doesn't happen – but this time it did and with real results.
I think at another level, though, there's an additional conversation that doesn't happen – or happen enough – which is a conversation about what do we each read into a story like this?
The stories we tell ourselves indelibly create the futures we see. So what world are we seeking to create?
I'd suggest at least three readings. There may be many more.
The first is: what the hell was the receptionist doing? Admit it, you might have thought the same. Hidden not particularly deeply within that story is a reception without a receptionist. For quite a long time. Not sure how I would have felt had I been sitting in that surgery.
Let's call that the management reading.
The second is: what would happen if every surgery offered this service? It clearly had an impact. It probably saved the taxpayer money. It appeals a lot to those of us who love finding new ways of doing things. You can imagine the announcement about a whole new squadron of receptionist outreach managers – indeed, it's probably happening already.
Let's call that the system reading.
The third, though, is perhaps the simplest: why did the receptionist ask to have that conversation? What compelled and motivated them to do something out of the ordinary? And why was it out of the ordinary? From one perspective it seems the most natural thing possible to talk to a lonely person in discomfort. Our health system is full of people with the deepest motivations to care.
You could call that the people reading. I think though it may be closer to love.
The point being this: in all the discussions around the future of health and care, we rarely say which conversation we are having. We talk about numbers, and regimes, and processes – all of which are hugely important. But how often do we reflect on which conversation we find ourselves in? And more than that, how often do we try to change the conversation, and say which one we really want to have?
The stories we tell ourselves indelibly create the futures we see. So what world are we seeking to create? Is it management, is it system or is it love?
Kieron Boyle is Chief Executive of Guy's and St Thomas' Charity, one of the UK's largest charitable foundations and place-based funders. This is the text of the speech he gave at Kaleidoscope's Writing the Future live event.
---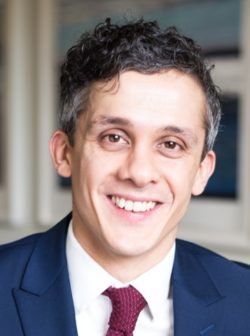 Kieron Boyle
14 December 2017