An NHS Graduate Management Training Scheme perspective of Kaleidoscope 
I joined Kaleidoscope in late November 2020 to embark on my "flexi placement" as part of the NHS Graduate Management Training Scheme (GMTS). Reflecting on my short but sweet time here, there are four key aspects of my placement that enabled me to flourish here and I intend to take with me on my NHS journey. 
Hello, I'm Kirsty and I'm part of the team at Kaleidoscope. I'm currently on the NHS GMTS doing General Management. Working at Kaleidoscope is part of my "flexi placement", which is basically a placement where I get to choose where I go for 8-weeks. Exciting right?
When I thought about what I wanted to do, I knew that I wanted something completely different to the NHS; to gain exposure and experience in another sector. A lovely colleague of mine put me in touch with a company called "Kaleidoscope", who apparently didn't have any hierarchy. "How on earth would that work?" I thought but I was interested to find out. After some conversations with the team, I started my 8-week journey in November.
A good welcome helps a lot
First days are never easy, and I was particularly nervous about this one as I knew how short my placement was going to be. I worried I wouldn't integrate well into the team. Throw in full-time working from home into the mixture and I was apprehensive, to say the least!
However, the team at Kaleidoscope had clearly put a lot of time and effort into my arrival and induction. Everything was ready to go, I had a structured timetable for my first week. I know this seems basic, but having that in place ensured I felt prepared for and valued by the organisation from day one.
During my first week, I had lots of introductions with people which helped me to understand how Kaleidoscope is run. Everyone that I met seemed genuinely excited that I was doing a placement at Kaleidoscope and offered to support where and when needed. Looking back, I truly felt like part of the team from the start.
Autonomy can be daunting
Before joining Kaleidoscope, I had vague ideas about the concept of self-management. I had experienced managing my own time in previous jobs, but I had never been given sole responsibility for all projects. I was keen to find out if Kaleidoscope delivered on their promise of full autonomy and creative control.
During my first couple of weeks, I was briefed on and handed the roles for several different projects. I was even made Delivery Lead on a project, which I was excited to undertake, and also grateful to be given the opportunity to lead on my own project.
At first, I found it difficult to juggle the different priorities, mainly because having full autonomy for tasks was something I had never experienced before. Whilst the responsibility was a bit daunting at first, I relished the opportunity and actually found the experience very rewarding. I now feel I am much better at thinking outside of the box and also questioning and challenging things more.
Whilst the responsibility was a bit daunting at first, I relished the opportunity and actually found the experience very rewarding.
Passion sets this place apart 
It became very clear to me early on and throughout my experience that the people here are extremely passionate about the work that they do, and often go above and beyond to deliver.
Consultancy is fast paced and busy. I experienced bouts of capacity crunches and found it inspiring when the team's  morale remained consistently high. A lot of that comes back to how the organisation operates as a team but also the work Kaleidoscope puts into wellbeing strategies to support staff.
The passion shows through the work too. There's a lot of talk about mission and values in many places but Kaleidoscope really is all about improving healthcare. I've seen how Kaleidoscope works with clients to create innovative and efficient solutions to problems, bring teams together and support positive changes. The level of detail and organisation that goes into the work here is beyond anything I've ever seen.
Kindness does make a difference
The defining factor of my success here is without a doubt the people. The team here really does what Kaleidoscope says on the tin; there is an abundance of kindness wherever you go, support offered to you regularly, and people genuinely wanting to see you do well.
Here are some key highlights of my time here (to name a few!):
Kaleidoscope's strategy development work, something I was always eager to learn more about.
Kaleidoscope Hola meetings; these are a very different format to what I was used to. It's fast and productive and I will take aspects of them forward in my career.
An amazing virtual Christmas work party
The virtual cook-along when I also got to meet some of the Kaleidoscope team in person which was a bonus!
A bittersweet goodbye
I am very sad to be leaving Kaleidoscope and its amazing people. Massive thanks to the team here for hosting and supporting me during such a strange time.
To any future GMTS trainees – if you want an opportunity that is a bit different but hugely rewarding, I highly recommend that you consider Kaleidoscope as an option.
---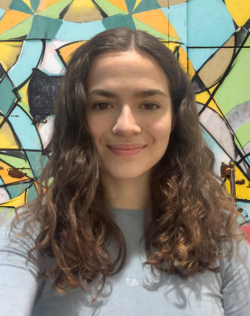 Kirsty Yull
4 February 2021