Five tips for preparing for a digital event
Digital engagement can easily go wrong. Too many people imagine that success is just about getting the technology to work. Here are our top 5 tips to help you run digital events with much less stress.
In days of yore, Kaleidoscope used to run face to face events. We crafted agendas, we cherry picked interesting and attractive venues, we had detailed speaker briefs, delegate packs and catering.
Now we do things digitally, we don't need to worry about all of that prep. All we need is a Zoom link and hey presto!
If only…
When we're delivering training on digital engagement and events, we ask participants what they're concerned about. They often mention tech going wrong.  It's important to be ready for that, but don't be tempted to think that digital mishaps are the only thing that you need to prepare for.
Don't be tempted to think that digital mishaps are only thing that you need to prepare for.
Just as you wouldn't organise a face to face event and only think about the AV, planning all aspects of a digital meeting or event matters. We may not have to travel anywhere or set up anything physical, but investing time in preparation is still crucial.
Here are our five rules for good online engagement:
1. Start with purpose
Most importantly, starting with what you're trying to achieve is crucial: getting people on a video call is still taking time out of a busy working day – probably between other commitments like childcare, pet care, or running errands – so people need to know why they're there and how they'll benefit from it.
2. Prepare your speakers
By the time your speakers come to an event, they should be absolutely clear on what they're speaking about, when, for how long, to whom and why. This might sound really obvious – but how many Zoom meetings have you been on where a speaker sounds like they're not quite sure what they're talking about, or speaks about something irrelevant?
They should also be joining with clear audio and video – test this before the event.
3. Plan your timings
It's easy to think that once you've got a running order in place, you're fine. But if one speaker talks for too long and the next, quite crucial session has to be cut short, there's a real risk that people lose valuable time. It's even more important for digital events because you don't have the cues you have in a face to face event, like '1 minute to go' signs, waving your arms frantically at the speaker, or people looking and sounding clearly bored.
4. Be clear on roles
There's lots that has to go on behind the scenes to make a digital event work, just as there is with a face to face event. To help it all run smoothly, be clear on who's doing what. For instance, we'd always recommend having a chat monitor who's separate to the facilitator. Be clear on who that person is and when.
5. Check your tech
Finally, although tech isn't the only thing to think about, it is essential. It's always worth checking the facilitator's wifi connection, camera and microphone are working well in advance of the day, to allow time to mitigate any issues. And it's important everyone running the event has a chance to practise to get completely comfortable with the platforms, if they haven't already.
The tips above help us to run our events with much less stress. We can't stop things from ever going wrong, but by properly preparing we can go in feeling much more confident and ready to mitigate any issues.
---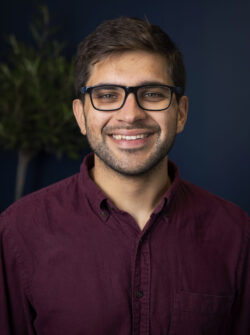 Andrew Grey
2 June 2020