The power of conversation
It's probably a bit strange to see a minor illness as a sign of a successful event. However, as we come to the end of our event series with the British Red Cross and Co-op Partnership on tackling loneliness, I've completely lost my voice! And I'm taking that as a good sign, after a few weeks which have brought real focus to the power of conversation and the value of human connection.
We were in Glasgow on 1 May for the last of our trio of events looking at services which offer one-to-one support to individuals to connect into their communities, reducing loneliness and social isolation.
​
So what did we learn?
It was good to be in Glasgow. It was fantastic to spend time in Scotland, where the thinking about a national strategy for loneliness has been underway for some time, and organisations have already been working together for a while to identify common ground and learning. It was noticeable how many more of our participants were already in contact and this allowed us to explore some of the sticky issues that emerge when people start to collaborate.  And, it was particularly interesting to be in Glasgow – home to great schemes including the Links Worker programme and Macmillan's collaboration with Glasgow Libraries, both of whom we had the privilege of learning from, on the day.
Challenging stigma.  A common challenge identified across all our learning events has been how to reach out and support the most lonely and isolated individuals. In Glasgow we homed in on the barrier created by stigma – not just around loneliness, but also issues such as alcohol use, or mental health, which can underlie and exacerbate people's sense of disconnection and isolation. We talked about the importance of framing our offer positively, to avoid stigmatising those who access support, and the potential of social media in offering people a gentler way to starting to talk about sensitive issues.
Learning to work together. Given the wide range of services working across Scotland to address loneliness and isolation in different ways, conversation turned to the challenges of working across organisational boundaries and of developing pathways for individual service users that are smooth and easy to navigate. We spoke about the importance of collocating and regular communication but recognised that it takes time and effort to stay in 'collaboration mode' and avoid defaulting back into competition. We underestimate the work required here at our peril!
Who defines success. Measuring and reporting on success and impact has been a common theme of discussions across the events. Our discussions in Glasgow offered a helpful reminder that one of the challenges for measuring success can be our different understanding of what 'good' looks like.  We heard the story of one GP who felt enormously frustrated because a group of lonely individuals they had brought together to take a Health Issues in the Community course had failed to engage with the training. However, while the GP chalked this up as a failure, the individuals were delighted; having initially met on the course, they'd gone on to arrange further activities together that were more suited to their interests – and three years on, the group continues to flourish.
Listening and being heard. Roseann Logan, from the Health and Social Care Alliance Scotland, told us the story of a young man who had 10 professionals involved in his life, when a Community Links Practitioner (a professional based in the GP practice who works  one-to-one with individuals to identify and address issues that negatively impact their health, by tapping into resources in the community) first started to work with him. Until that point he had never felt like anyone listened to him. Listening is vital if we're going to unlock issues as personal and individual as loneliness, and tackle the many complex problems that often underlie and stem from it. Perhaps the most striking feature of the individual stories that providers have shared over the past few weeks is the sheer diversity of the individuals who have been supported, and of their journeys into and out of loneliness. For me, this has really underlined the fact that the simple, open, and very human conversation between an individual and their connector (or link worker, or coordinator etc) is the magic ingredient that unites these services, and the core of what makes them work.
So where next? We'll be reflecting on everything we heard in Bristol, London and Glasgow, and writing a report which will be published at a further event in the summer. And hopefully by then my voice might have come back.
Kate Jopling is an independent consultant working with Kaleioscope.
---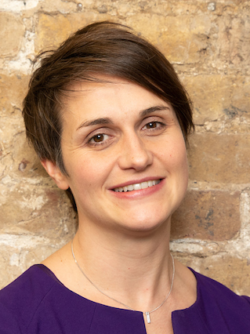 Kate Jopling
4 May 2018