Language, metrics and connections: learnings from the Loneliness Action Group
We've pulled together the learnings from the recent meeting of the Loneliness Action Group, a partnership convened and supported by the British Red Cross and the Co-op.
We were very proud to facilitate the recent meeting of the Loneliness Action Group, a partnership convened and supported by the British Red Cross and the Co-op. We were particularly pleased to hear from some terrific speakers who provided important updates on the vital issues around loneliness.
Ramona Herdman, Head of Tackling Loneliness at the Department for Culture, Media and Sport, updated the room on the implementation of the government's Loneliness Strategy, which seems well under way.
Simon Chapman, Deputy Director of the Personal Care Group for NHS England, gave a fantastic presentation on the improvement and expansion of social prescribing in England that hopes to see the recruitment of 1,000 new social prescribing link workers by 2021 with a further few thousand by 2023. The group was also given the opportunity to feed into the government's early thinking for its  anti-stigma campaign through an interactive work session and, finally, encouraged to adopt the Centre for Wellbeing's Brief guide to measuring loneliness.
Thank you to everyone who joined the meeting and showed such impressive energy and enthusiasm. Coming up next, we are excited to announce a workshop on 2 April in London to examine how social prescribing can best tackle loneliness.
Following the Loneliness Action Group meeting, we've pulled together five things that stood out.
1. Language is important. ​
It was clear during the work session that the power of language would be instrumental to the government's public campaign, which aims to tackle the stigma around loneliness. There was a focus on using more positive terminology such as 'connections' alongside embracing the word 'loneliness' to help diminish stigma. This Girl Can, Time for Change and Change4Life were highlighted as successful campaigns following similar tactics.
2. We need national metrics.​
To effectively manage something, it helps to have a good measure of it. Ingrid Abreu Scherer, from the Centre for Wellbeing, highlighted how the metrics for loneliness used by different services and organisations are currently inconsistent. If everyone is using a different scale it is difficult to understand the relative effectiveness of various interventions. The Centre for Wellbeing's new guide therefore aims to provide a consistent, national metric for all charities or social enterprises in the UK tackling loneliness to work from.
How do typical referrers identify people who are lonely, especially those who are most isolated?
3. Involvement from all sectors enriches the effort. ​
The diverse range of attendees reflected how the voluntary, private and public sectors all connect with and enrich the effort to tackle loneliness. Continuing to create a collaborative culture between these parties is essential, and the Loneliness Action Group does this particularly well, radiating a positive and productive energy. How is this culture maintained? By allowing everyone's voice to be heard equally and recognising that each stakeholder has something to add, the group has unlocked a way to work together in a sustainable, supportive way.
4. More to do to ensure social prescribing effectively tackles loneliness.
Social prescribing is exciting, but there's more to do to ensure it is effective in tackling loneliness. NHS England is embedding link workers across the system, which is vital – most people who are lonely need one-to-one support to help them connect to the support they need. But there's still more to unpick. How do typical referrers identify people who are lonely, especially those who are most isolated? How can we ensure communities are equipped with the increased investment and resources they will inevitably need as social prescribing becomes an integral part to our health and care systems? We will be exploring each of these and more at our upcoming workshop.
5. Help people make lasting connections. ​
Just 10% of the business of the Loneliness Action Group happens in the meetings. What happens at the meetings definitely shouldn't just stay there. We know that members value the opportunity to network within the group, and share and learn from what others are doing, so we will be incorporating more opportunities to do so in future meetings. The connections have been created, now it's up to individuals to make them useful.
Overall, we felt a powerful sense of momentum as the group engaged with a variety of the moving parts working to tackle loneliness at a national level. We look forward to maintaining this as we open up the conversation on how social prescribing will address loneliness in our workshop on 2 April.
Whether you attended the Loneliness Action Group event, tuned into the webinar on social prescribing and loneliness, have signed up for the workshop, or are simply interested in how loneliness is being tackled in the UK, we'd love to hear your thoughts – just leave your comment at the bottom of the page.
---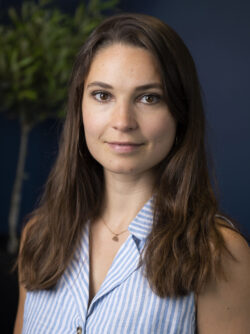 Lydia Paris
26 March 2019