How Kaleidoscope does dissemination…or doesn't
Dissemination of research is universally promoted, clung to and agreed upon as vital to policy, practice and all users of research. We also seem to agree unanimously that bridging this gap between health research producers and users is hard.
We agree on the importance of producers and users uniting in this endeavor and that cross-disciplinary discussion catalyses unification, but the struggle of actually doing this is real and felt equally by all sides. Why can't we overcome this impasse? What if we've been going about it all wrong all along?
We here at Kaleidoscope like to think in colour. We see the struggle and effort from both sides, and though we applaud the intentions, we think the time has come for a renaissance — a resurgence of colourful thinking in policymaking, practice and research and a reawakening of the relationship between the factions. Let's take a step back from the black and white chasm that divides us, decide just what it is we're trying to do, and bridge that gap together.
So, what exactly do we want to do?
Ultimately, we want practice and policy to be informed by the best possible evidence that result in decision-making most capable of improving the health of our population.
At Kaleidoscope, we have already begun to visualise what this might look like. We are currently supporting the Embedded Research project, an NIHR-funded study conducted by researchers from UCL and the Universities of St Andrew's and Nottingham. The project investigates knowledge co-production via embedding researchers within research user organisations.
In lieu of research producers transferring finished products to users, embedded research allows for both parties to create, use and share research throughout the production process: knowledge co-production rather than knowledge transmission.
Let's start with small changes in language, like ridding us of the term research dissemination, which implies a one-way flow of information.
The way forward must be different, not simply a different shade of the same black and white, but an entirely different coloured approach. Let's start with small changes in language, like ridding us of the term research dissemination, which implies a one-way flow of information. The assumption is that research producers have the 'better' evidence, and it is their responsibility to wrap this evidence in language the rest of us ignoramuses can understand (read our thoughts on that particular issue).
Single studies packaged for consumption by research users not only lack context, but also may not represent the full academic evidence base. It denies the validity of forms of non-academic evidence — personal experience, cultural history, political reality to name but three — which form part an inevitable and essential part of any effective decision. Most importantly though, research disseminated from producer to user denies both the social relationships and trust that fortify the evidence itself and use of it.
Dissemination views knowledge as a product in its own right; capable of being created and stored whether or not it's actually used. What if that's wrong? What if knowledge is better conceived as a process, only ever coming to life through an interaction? In this way the knowledge falling unheard in the forest isn't knowledge in the first place. It's inert, irrelevant.
Kaleidoscope doesn't do dissemination…
Learning from evidence
We do learning from evidence. This means, we bring people together to learn from each other's evidence. We do so by helping people think, enabling both researchers and policy makers to learn from each other's evidence and thereby make better decisions. While dissemination is simply a reporting of available research, learning is a shared process in which research producer and user actively take part. Learning is perpetual, continually adapting and, most importantly, a two-way flow of information. Shared learning requires the space to do so. While attempts at mutual learning have been made – for example, fellowships for researchers in residence or knowledge mobilisation events – as small-scale or one-off ventures, they've mustered little traction.
We approach learning from evidence using Kaleidoscope's guiding principles: bringing people together with a clear purpose and measurable outcomes. We do so in a safe, fun, community-owned space and foster an environment built for collaboration and learning that enables us to cross boundaries. Critics of research dissemination have long ballyhooed simultaneous interactive discussion to accompany more standard distribution methods, but Kaleidoscope does more than facilitate communication!
We don't just talk, we DO. Just as learning from evidence is a dynamic, two-way process, so is our approach to it. Of course, we're all about having the right conversations with the right people at the right time, but all of that talking is moot without actionable outcomes. Knowledge falling in the forest, even if heard but still unused, is not knowledge either.
We give knowledge producers and users the space to share and learn,  and also the tools and motivation to then take action, to make lasting positive change. Not change as a product, but change as a process, continually adapting with the knowledge input and the times. Not change in the isolated silos of research or policy or practice, but in all in unison.
Research producers and users need not be juxtaposing, black versus white spheres. It's time to reinvent the relationship between them.
---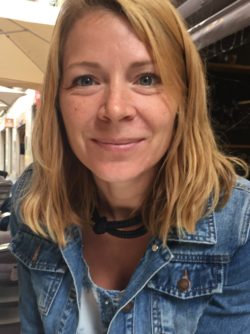 Allison Seeger
27 September 2018