Collaboration is as old as civilisation. So it's understandable that there are lots of myths surrounding what it is, when it is and isn't needed and how we can drive it.
Inspired by our conversations as a community, and informed by the latest theory and research, we have tried to debunk the myths and set out the skills and behaviours south east London system leaders need to drive purposeful collaboration.
Download 'Driving purposeful collaboration'
How did we get here?
On 7 June 2022 we came together as a community to explore what driving purposeful collaboration really means and why it matters.
We explored the theory and research and some of the most common myths that get in the way of purposeful collaboration. And we heard from an inspiring panel of speakers – Sam Hepplewhite (NHS SEL), Geeta Menon (Health Education England) and David Meates (Specialist Health Systems Advisor Canterbury, New Zealand).
Watch the recording of our session on the theory and research behind purposeful collaboration
Download the slides, including a list of resources, from the above video
Watch the recording of our panel discussion
Together we refined the skills and behaviours we need to foster as system leaders in south east London: download 'Driving purposeful collaboration: refining our characteristic'
And we set out what we need to prioritise as a system to develop a culture that supports leaders to drive purposeful collaboration: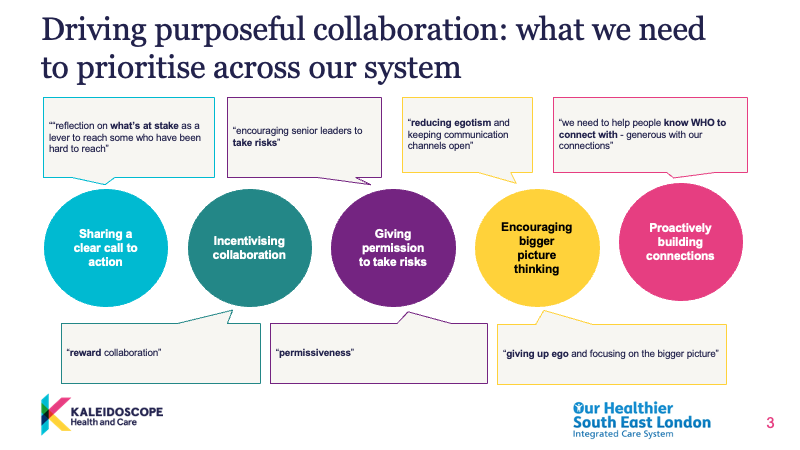 Who was in the room?
Across all our community activities we committed to gathering feedback and measuring who is, and who isn't, in the room.
Since our first event we have responded to your feedback by:
reaching out to colleagues in groups currently underrepresented in our community
reinforcing that this community is for anyone interested in system leadership at any stage in their career at events and in our messaging
reviewing the categories we are using to track profession/sector and ethnicity to include a greater level of specificity, including 'hospice'.
We know that diversity in all we do is the only way we can achieve lasting change, and plan to further target outreach efforts at those who are currently underrepresented in the community.
Download feedback and diversity data from our 'Driving purposeful collaborations' event.
---