Building trust across boundaries
"We need to think much less about trust… and much more about being trustworthy, and how you give people adequate, useful and simple evidence that you're trustworthy."
–
Onora O'Neill 
Trusting relationships – between teams, organisations, professions and cultures – are the bedrock of effective collaboration. But what is trust? Where does it come from? And how can we actively foster it in all our work?
Inspired by our conversations as a community, and informed by the latest theory and research, we have set out the skills and behaviours SEL system leaders need to build trust across boundaries.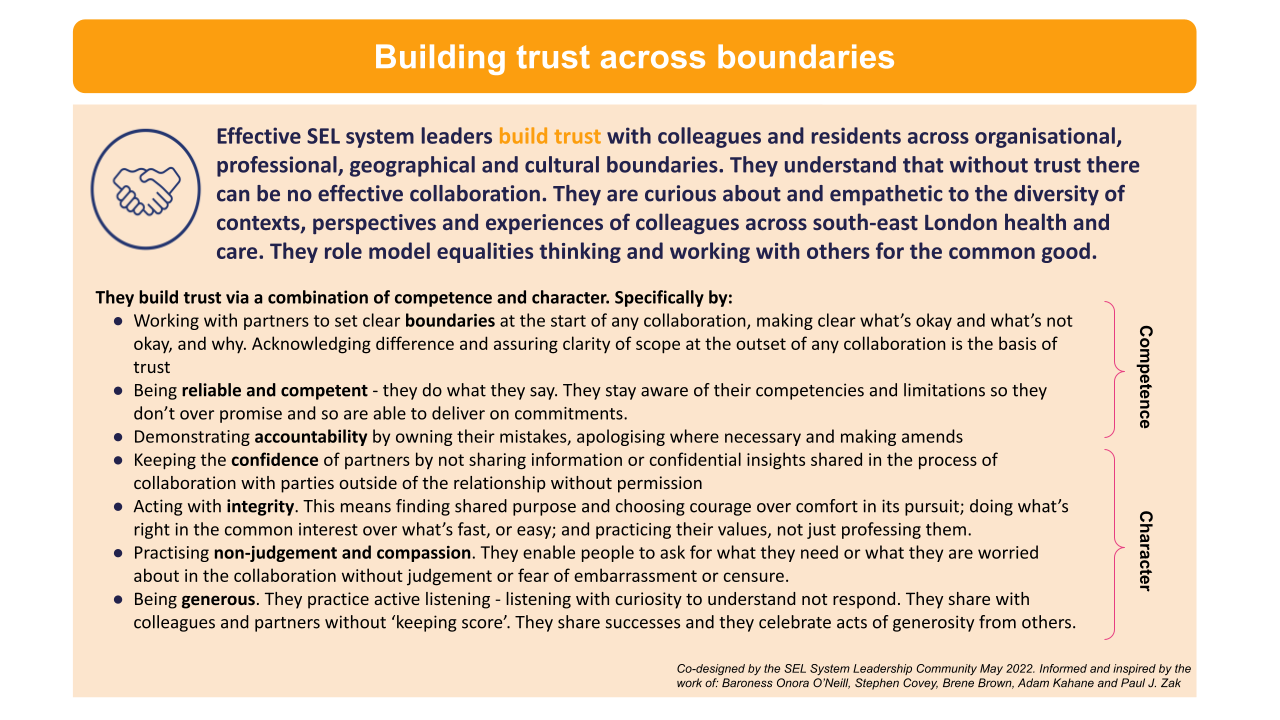 How did we get here? 
On 18 May 2022 we came together as a community to explore what building trust across boundaries looks and feels like and why it matters.
We drew on the work of Baroness Onora O'Neill, Stephen Covey, Brene Brown, Adam Kahane and Paul J. Zak. And we heard from an inspiring panel of speakers – Andrew Bland (SEL ICS), Folake Segun (HealthWatch) and Matthew Frost (WeAreCompany).
Watch the recording on the theory and research behind trust.
Download the slides, including a list of resources, from the above video
Watch the recording of our panel discussion
Together we refined the skills and behaviours we need to foster as system leaders in south east London: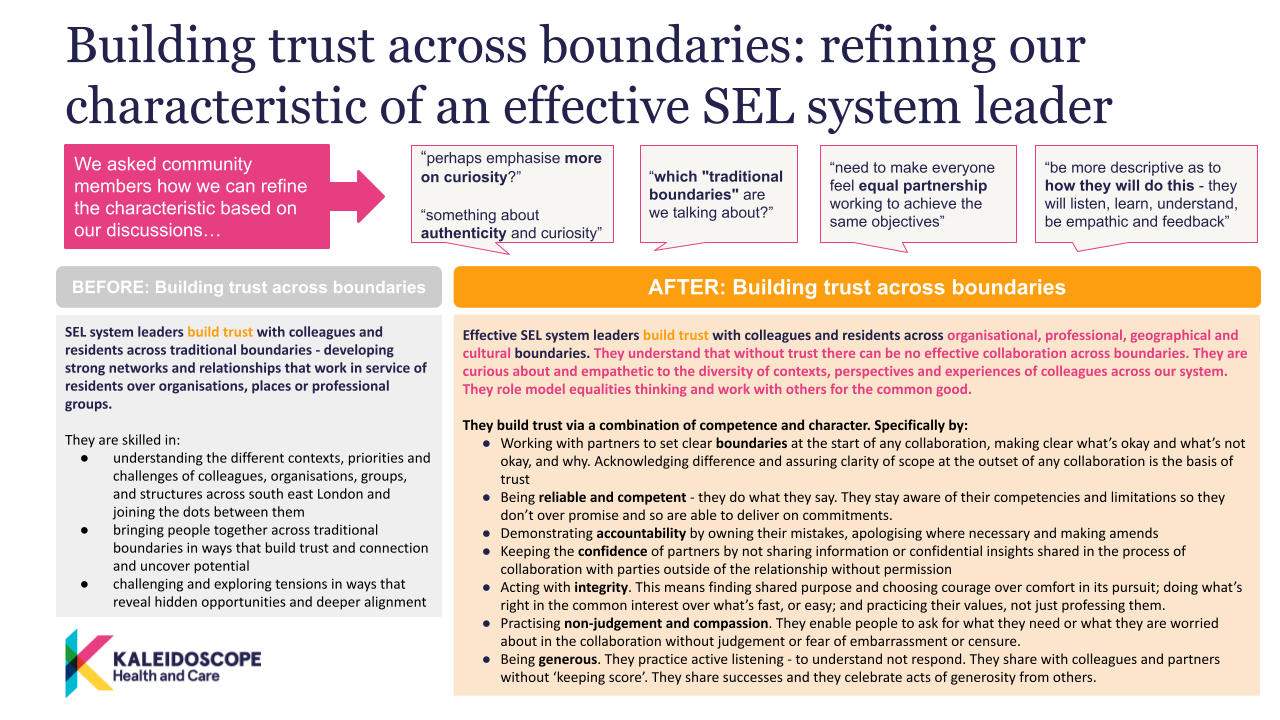 And we set out what we need to prioritise as a system to develop a culture that supports leaders to build trust across boundaries: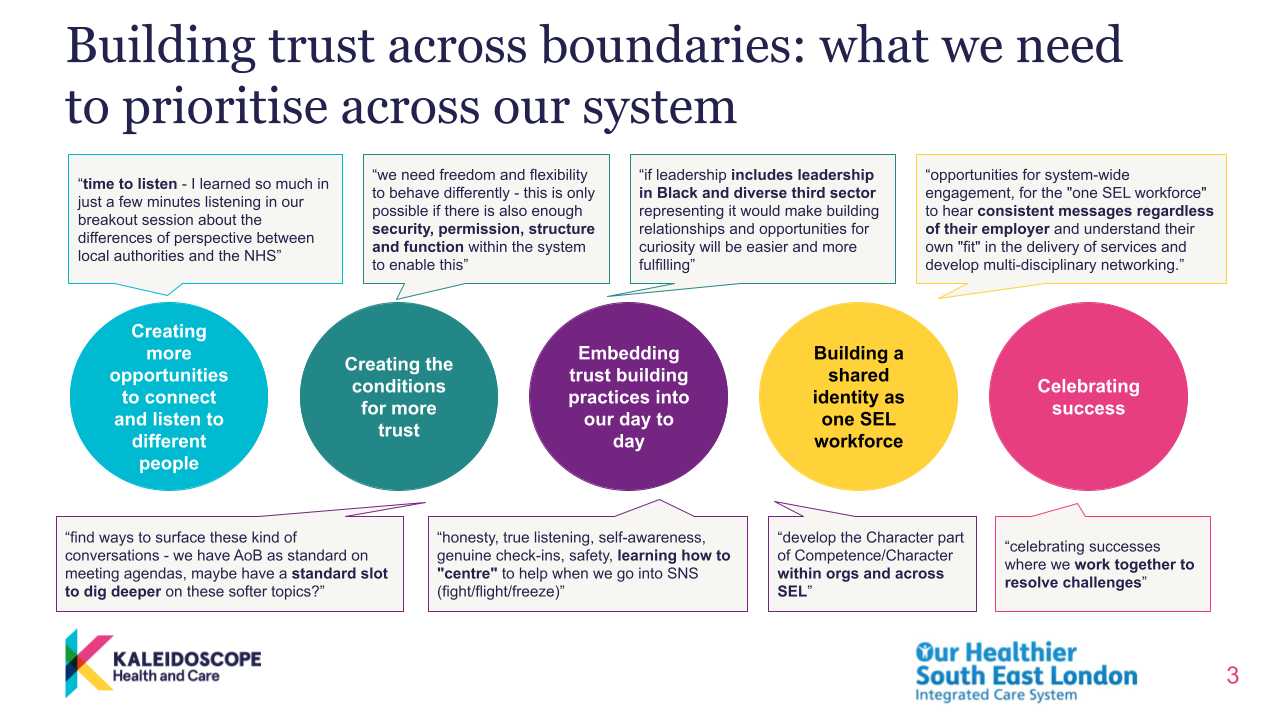 Who was in the room? 
Across all our community activities we committed to gathering feedback and measuring who is, and who isn't in the room. 
We know that diversity in all we do is the only way we can achieve lasting change, and plan to target outreach efforts at those who are currently underrepresented in the community. 
Download feedback and diversity data from our 'Building trust across boundaries' event.
---