Farhath Choudhury
---
Farhath works at Kaleidoscope.
Before joining Kaleidoscope, Farhath volunteered in several charities where she gained experience in a variety of areas. These include providing face-to-face emotional support to people who experience mental health issues, helping to reform government policy, and publicising exhibitions through social media.
Farhath is particularly interested in increasing inclusivity of marginalised and minority groups in society. She is taking part in Kaleidoscope's Perspectives Programme, an internship focused on promoting unheard voices in health and social care.
Farhath studied history at the University of Nottingham, with particular focus on international relations and British diplomacy with Arab states during the 1950s.
In her spare time, Farhath likes visiting museums, exhibitions and galleries. She can also be found in the kitchen covered in buttercream from her most recent cake baking project.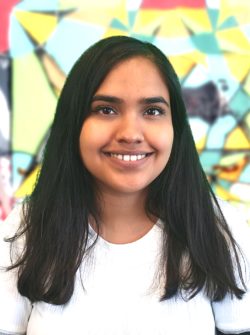 Contact