Farhath Choudhury
---
Farhath worked across digital events and projects supporting leadership development, diversity and inclusion and mental health.
She was part of Kaleidoscope's Perspectives Programme, promoting unheard voices in health and social care. In that role, she set up and ran a student mental health film festival exploring student's lived experience of mental health.
Before joining Kaleidoscope, Farhath volunteered in several charities providing face-to-face emotional support to people who experience mental health issues. She also managed research promotion and campaigning activities through social media.
Farhath studied history at the University of Nottingham, with particular focus on international relations and British diplomacy with Arab states during the 1950s.
In her spare time, Farhath likes visiting museums, exhibitions and galleries. She can also be found in the kitchen covered in buttercream from her most recent cake baking project.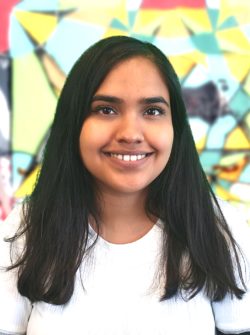 Contact